<!- mfunc search_box_body ->

<!- /mfunc search_box_body ->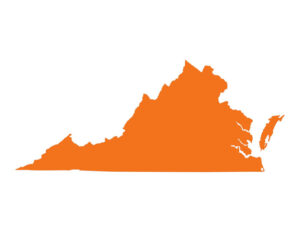 Don't get Virginia wrong. This commonwealth isn't stuck in its colonial past. While the state takes great strides to ensure that its historical sites and traditions are preserved and commemorated and places like Colonial Williamsburg will be around for generations to come, Virginia's graduates of bachelor's and master's degrees in liberal arts – scientists, environmentalists, educators, social scientists, activists, lobbyists – keep a close eye on the future, ensuring that Virginia continues to be a place where change is always holistic and growth and innovation are always approached with a better, healthier tomorrow in mind.
For example, allies across the state created the Virginia Green Program – a voluntary, statewide initiative that supports sustainable tourism. Partners include more than 1,800 Virginia businesses (museums, hotels, restaurants, parks, festivals, etc.) who consider themselves part of the tourism industry. As a result of this groundbreaking initiative, 1.3 billion gallons of water has been reduced, 29,000 tons of material has been recycled, and 300 million pounds of greenhouse gases have been reduced.
In Virginia, it's this commitment to social responsibility, scientific advancement, and thoughtful living that has made the commonwealth a leader in sustainability. Colleges of liberal arts have become part of Virginia's success by producing liberal arts graduates who come armed with critical thinking, collaboration, communication, and creative-thinking skills and a passion for doing good.
<!- mfunc feat_school ->
Featured Programs:
Sponsored School(s)
<!- /mfunc feat_school ->
Become Part of the Film, Media and Performing Arts Scene in Virginia with a Degree in Liberal Studies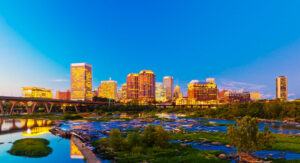 From the Shenandoah Valley to Central Virginia to Coastal Virginia, live venues for theater, musical theater, classical music, and more are plentiful.
In Richmond, the Virginia Repertory Theater boasts an annual audience of more than 550,000 and is one of the largest performing arts organizations in the region. In Staunton, Blackfriar's Playhouse is the world's only re-creation of Shakespeare's original indoor theatre and is home to the famed Shenandoah Shakespeare acting troupe. And in the Newport News-Virginia Beach area, a host of community theaters regale audiences with off-Broadway shows and world-class theater and dance.
Not to be outdone by Virginia's live performing arts industry, the state's film industry is nothing if not impressive. The metro Richmond area has become a hot spot for production companies like Hulu and Apple TV, and in 2020 alone, the industry brought more than $120 million to Central Virginia.
The performing arts has always had a home in Virginia, carving out exciting opportunities for graduates of liberal arts colleges who want to flex their creative muscle.
Join the Scientific Community in Virginia with a Degree in the Liberal Arts and Sciences
As the home of the renowned Dulles Technology Corridor, a major Northern Virginia business cluster known for its defense and tech companies, Virginia has long been a beacon for scientific inquiry. With a foundation in the liberal arts, scientists in Virginia have the interdisciplinary skillset to work in teams that advance science with sustainability in mind.
Scientific professionals in Virginia partner with the state's colleges of liberal arts to work on pressing issues of today like climate change, land use and development, air and water quality, and environmental degradation.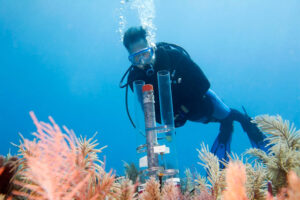 The VA Bio+Tech Park, home to a life sciences and emerging technologies community that includes more than 70 companies, state/federal laboratories, and research institutes, and the Virginia Institute of Marine Science, one of the largest marine research and education centers in the U.S., are just some of the top spots in Virginia where scientific advances are being made and opportunities for liberal arts majors abound.
How a Liberal Arts Education in Virginia Can Prepare You to Work in the Social Sciences
Whether you have goals of changing your community or changing the world, a foundation in the social sciences through a bachelor's or master's in liberal arts will prepare you with the interdisciplinary skillset you need to seek answers and craft solutions.
Environmentalists, advocates, activities, social workers, lobbyists, and more work tirelessly to improve Virginia's environment and opportunities for the people who call it home. The work of Virginia's social scientists are valued in organizations like Virginia Organizing, a statewide grassroots organization dedicated to social injustice; LandScope Virginia, which serves as a conservation and educational resource for the land-protection community and the public; and Environment Virginia, which researches environmental challenges and advocates for solutions.
Colleges of Liberal Arts in Virginia Offering Bachelor's and Master's Degrees
Averett University Danville, VA
Averett University has a long history of academic excellence and scientific inquiry that spans more than 150 years. Students here are taught in a supportive environment that promotes adaptive skills to empower students to succeed in a constantly changing world. Study that includes research, critical thought, clear communication and creative problem-solving are integral parts of the liberal arts education here. A low, 12:1 student-to-faculty ratio ensures a close-knit academic endeavor, experiential and service-learning experiences are encouraged, and study abroad programs serve as outstanding opportunities to learn about other cultures.
Emory & Henry College Emory, VA
Emory & Henry College offers a close-knit academic environment that includes a low, 10:1 student-to-faculty ratio and more than 90 academic majors, minors, and tracks for a dynamic educational experience. Emory & Henry is consistently ranked among the country's best private liberal arts colleges and has earned the Presidential Award for Service Learning, the nation's highest recognition for community service and service learning.
Hampton University Hampston, VA
Hampton University is grounded in the African-American experience and focused on the global community of the 21st century. In addition to holding the distinction of being among the top historically black universities in the country, Hampton is decidedly diverse, with the study body here representing no less than 35 countries.
Liberty University Lynchburg, VA
Liberty University is a massive presence in Virginia's liberal arts community. Home to no less than 15 colleges and schools and more than 700 programs of study, Liberty has long been a force to be reckoned with. Liberty has long prided itself on academic programs that feature a blend of classroom theory and practical experience, thereby creating students who are prepared to take on the challenges of a modern, constantly-changing society. Liberty has also been a pioneer in distance education for decades, so students seeking flexible program options are sure to find a course of study that meets their specific needs.
Southern Virginia University Buena Vista, VA
Southern Virginia University boasts a 93% job and graduate-school placement rate within one month of graduation, which greatly exceeds any other school in Virginia for student success. With a foundation in the Church of Jesus Christ of Latter-Day Saints tradition, Southern Virginia offers students an academic experience aligned in the Christian faith.
University of Richmond Richmond, VA
The University of Richmond has earned a reputation for academic excellence, including a ranking among the nation's Best Liberal Arts Colleges by U.S. News & World Report and among the Best Values in Private Liberal Arts Colleges by Kiplinger's Personal Finance. Other points of pride for the University of Richmond include a low, 8:1 student-to-faculty ratio, outstanding service learning opportunities, and the Richmond Endeavor, a premier first-year experience that features outstanding support and guidance for new students.
Virginia Wesleyan University Virginia Beach, VA
Virginia Wesleyan University is a premier liberal arts and sciences university that's home to outstanding opportunities for experiential learning. Students here are encouraged to conduct independent research, study away for a semester or longer, or participate in service-learning and community experiences. An average class size of just 15 and a student body of just 1,500 ensure a personalized course of study, while a dedicated faculty of scholars and mentors provide students with outstanding support.