<!- mfunc search_box_body ->

<!- /mfunc search_box_body ->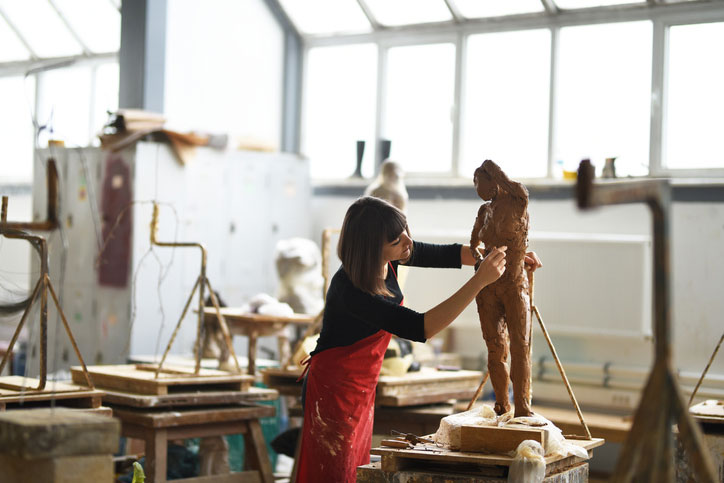 "All the world's a stage," William Shakespeare famously wrote, "And all the men and women merely players." And if there is anything that unites all of us players it is the single truth that we are all trying to figure out how best to play our part and purposefully contribute to the play of life. Fortunately, for many, a liberal arts degree, combined with studio arts courses, can provide a script. 
What is Studio Art? Studio art is visual art. It is painting, drawing, sculpting, ceramics, photography, and much more. It is often defined simply as any visual art that is made in a studio.
In the context of a liberal arts program, it is part of a comprehensive study in the humanities.In combination with courses in history, literature, writing, philosophy, sociology, psychology, the natural sciences and more – studio arts courses give students an outlet for creative expression, and an appreciation for the arts through the interdisciplinary lens of those other disciplines.
<!- mfunc feat_school ->
Featured Programs:
Sponsored School(s)
<!- /mfunc feat_school ->
Contemporary Influencers in Studio Arts Cross Over Into Everything from Pop Culture to Politics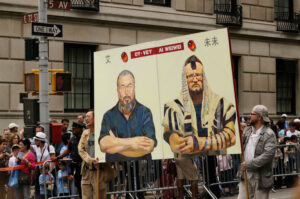 Studio art prepares students to creatively engage with and contribute to the contemporary discourse of the world. In these courses, students are given an opportunity to explore a range of mediums and styles that help them develop their unique artistic passions and skills, and even a future career path.
A studio artist is someone who can inspire a movement and change a generation. By engaging in the social and cultural discourse, they have a unique opportunity to reveal norms and cast visions. By expressing themselves, they acknowledge their humanity and the humanity of those around them.
You Will Get Hands-On with Studio Art Coursework in Your Liberal Arts Program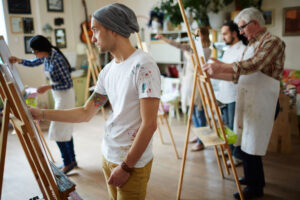 Courses in studio art prepare students to contribute their creative expressions to the greater contemporary conversation. As an undergrad, pursuing a BLS (Bachelor of Liberal Studies), studio art courses provide you with a more holistic understanding of the world in which you are responding to. A BFA (Bachelor of Fine Art) curriculum has fewer liberal arts courses with a more specific focus on the studio arts. It is geared towards students interested in pursuing a career or graduate study in the visual arts only.
For liberal arts students interested in studio art generally, and not as a specific degree or concentration, there are a variety of basic artistic methods and mediums you can expect to learn about:
Of course, you'll take these classes alongside your other liberal studies courses in the natural sciences, history and art history, English and writing, government and social science, anthropology, and even contemporary courses in gender studies.
Working with clays and glazes, you will learn traditional pottery, vessel making, and sculpture through the processes of hand-building, throwing, and casting. You will have the opportunity to become familiar with contemporary and historical source materials as a way of encouraging and guiding you into your own voice and in sculptural media.
Painting and drawing have an endless history and influence upon the world. This will encourage your aesthetic, critical, and technical development through a variety of group and individual projects. To help discover or refine your voice and perspective of the world, you will become familiar with contemporary issues, the process of articulating individual themes, and how to develop technical means to give a visual presentation and representation to your thematic perspective.
Perhaps more than any other medium, images have the most powerful, immediate, and lasting impression. Especially in the 21st century. A photography will provide you a solid foundation of technical skills and visual storytelling as well as a holistic outlook of the history and traditions of photography. A photography degree will prepare you for a career in visual media, which includes fine art, advertising, media communications, and education.
Printmakers have an opportunity to engage with people and ideas from all over the world, largely because it includes a wide range of practices and mediums. From stenciled art to spray painting city streets and sidewalks, to creating very fine print on paper or wrapping an entire building, printmakers have a unique medium of combining art and imagery unlike other studio artists. A printmaking degree, therefore, will spend time learning about the various processes, techniques, and technologies of printmaking, such as photolithography, intaglio, relief, screen printing, digital processes, papermaking, and the making of books and magazines.
From Michelangelo's Pieta to Rodin's The Thinker, to the towering Christ the Redeemer statue that overlooks Rio de Janeiro, sculpture has been a key component to the studio art world since the beginning. Understanding the history of sculpting as well as the physical characteristics of the materials available is essential. Modern sculpture uses a variety of materials to help you express ideas and create visions that relate to a particular conversation or experience. Coursework in sculpting will provide a broad understanding of the technical skills, materials, and techniques needed to expand and create your ideas in a thoughtful and individual expose.
Studio art prepares students to creatively and purposefully contribute to the conversation of the world in their own unique way, while producing a tangible representation of their ideas and feelings. They help define and refine a culture. Taking studio arts courses in the context of a liberal arts degree is crucial to grasping and relating to the history and perspective of the world you are trying to converse with.
Opportunities for Studio Artists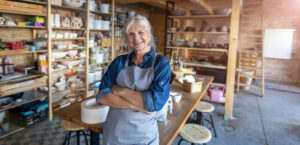 The world is continually moving towards the arts. Be it animation, video game development, movie and television production, website design, or general artistic expression, the arts and the need for artists continues to grow. According to the Bureau of Labor Statistics, between 2018 and 2028, the need for artists and designers is projected to increase three percent, adding more than 96,000 jobs. Jobs such as:
Developing the Whole Student Through Studio Art Courses in A Liberal Arts Program
Liberal studies are all about enriching students and preparing them for the world through a broad range of experiences. Liberal studies programs aim to build critical thinking skills and intellectual curiosity, and a big part of that involves having an outlet for creativity, getting hands-on with the arts and coming away with the sense of agency and confidence that can only come by bringing art into existence.
Studio arts courses are a big part of the liberal arts experience:
Understanding and Guiding Humanity. Art is as old as mankind. It has been a medium for entertainment, for teaching lessons, and for self-expression for as long as man has been around. To understand art, then, is to understand humanity. It connects us to our past. But it can also guide us into the future.
As an artist with a liberal arts degree, you have a unique platform of understanding. You understand the breadth of humanity and are able to express that understanding in a way that not only connects people with who they are and where they came from, you can lead them into insights about our current condition, providing new and engaging insights, and encouraging them to think different. You have the opportunity to help humanity be better. You have an opportunity to impact their future.
Travel and Opportunity: Along with a liberal arts degree, pursuing studio art courses opens doors of opportunity anywhere in the world or art. Beyond even working in museums or galleries, graphic design firms, or teaching at art schools, studio arts courses can connect you to such unlikely fields as mental health through art therapy.
Connecting Others. Making an Impact: Perhaps the greatest benefit of taking studio arts courses is how you can use your newly developed skills and talents. As an artist, the impact you can have on your community is nothing to shy away from because when art and community are intimately connected, good things happen. Be it from local businesses receiving more foot traffic and generating more sales, a community coming together to engage in a shared experience around an art walk or unveiling of a new mural, or an opportunity to reduce stress and increase empathy and tolerance, the impact that art has on its community is the ultimate expression of humanity. As an artist, you have the ability to connect people and have a direct and resounding impact on people's lives.
Liberal arts colleges are uniquely qualified to provide their students a unique culture that supports and encourages purposeful learning. Features of liberal arts colleges often include:
Quality Relationships: At a liberal arts college, classroom sizes are typically 15-20 students, allowing for a more intimate learning environment, unique personal experience with the professor, and classes that engage in a variety of learning and assessment strategies. Smaller classes also mean a smaller, more connected faculty. This often-times overlooked benefit not only allows professors opportunities to communicate their content with their fellow colleagues so the curriculum is cohesive across the spectrum of disciplines, it provides the student body a more relational, more connected atmosphere in which to learn.
In smaller university towns, liberal arts colleges often provide the bulk of entertainment and opportunities for the community, providing a unique and purposeful relationship between the two, opening opportunities for personal engagement and meaningful experiences. Both for the students and those who support it.
Quality of Life: Art allows us to bring meaning to our life as well as a medium with which to understand and interact with the world. Students who pursue studio art courses within a liberal arts education become adults who forever have the ability to engage with people, express their art, and participate in an outlet that allows them to decompress and overcome the stressors of life. Studies continually affirm that people who have art in their lives are – on average –happier with life and more qualified in their job performances.
Taking studio arts courses within a liberal arts education provides you an opportunity to connect with and be inspired by people who are like minded, encouraging deep and meaningful relationships, and ensuring a safe and healthy outlet to life and living.
"All the world's a stage, and all the men and women merely players; they have their exits and their entrances," yet each one plays a crucial part that contributes to the entire story. The difficulty is figuring out what your part is, how to play it, and trusting that it is good enough. As a liberal arts major taking studio art courses, you will be able to find your role making a sincere and purposeful impact on the world.