<!- mfunc search_box_body ->

<!- /mfunc search_box_body ->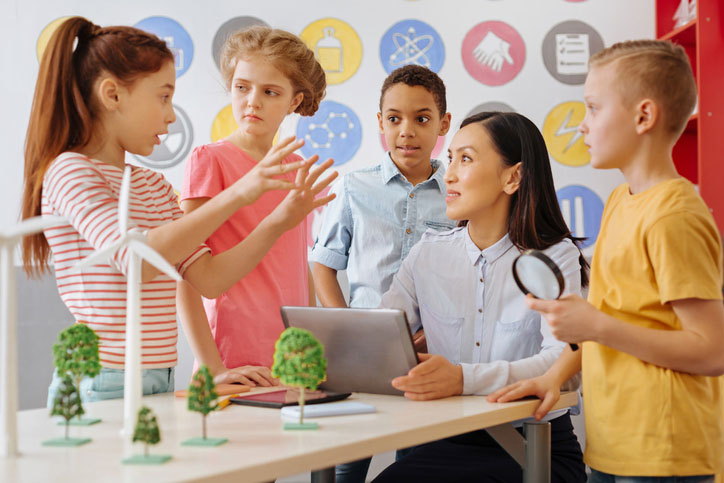 Becoming a teacher means learning about the many ways that we can educate children. The push to teach students to become "smart creatives" and innovators has sparked new methodologies and opportunities that continue to reinvent how we teach.
<!- mfunc feat_school ->
Featured Programs:
Sponsored School(s)
<!- /mfunc feat_school ->
We're now using expeditionary approaches to learning, where students complete long-term projects that naturally tie academic standards to real-life experiences.
Teaching jobs are always in demand. At the same time, jobs in the field of education are also always changing. The profession needs people who can embrace the fact that the world is changing, who are adaptable, flexible, and obsessed with learning—that is, those who can change right along with it. A liberal arts degree could be the best primer for developing the kind of dynamism and creative problem-solving skills today's teachers need.
What Does it Take to Become an Educator?
Although job descriptions for teachers will vary based on the school environment, most teachers, from preschool to college-level, are expected to do the following:
But beyond that, a successful teacher should be caring, engaged with students and the subject matter they are teaching, and they should hold the fundamental belief that all students are capable of learning.
They should also ascribe to the objective that their job is to engage students with the process of learning so that they are equipped with the tools and the practices to meet life's challenges. Students should walk away from the classroom knowing how to embrace new ways of learning. This means that if you're going to become a teacher, you're going to have to want to help students become enthusiastic about learning.
Anybody who works in education has to be dynamic. The last few years have challenged us to rethink how we educate, why we educate, and where teaching and learning should take us as the world continues to become globalized, digitized, and dynamic.
So, what does it take to become an educator, and how can earning a degree in the liberal arts prepare you to be a teacher?
A liberal arts education is, in many ways, cultivating the practice of being a curious, aware individual who seeks multiple avenues for learning about the ways of a changing world. 
Earning a Liberal Arts Degree Can Make You a Better Teacher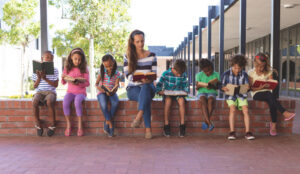 Becoming a teacher means becoming flexible, curious, and generally enthusiastic about learning. Teachers are passionate about their subject area and care for their students—and like most liberal arts majors, they also love learning, growing, and improving themselves.
Some choose to earn a bachelor's in liberal arts, taking classes in the particular subject areas that interest them most, and pursue a teaching credential after the fact.
Oftentimes, you can take classes in education within your liberal arts degree, and many even offer a full concentration in educational studies. No matter how you craft your liberal studies curriculum, getting your bachelor's or master's degree in the liberal arts means learning how to learn.
You learn how to ask questions of the world around you, studying humanities, history, English, writing and rhetoric, sociology, and psychology. You also learn how humanity uses knowledge and enquiry to make sense of the world around us. You'll take classes in the natural sciences and astronomy, while also exploring the social sciences with courses in anthropology, political science, and even media studies.
And modern iterations of liberal arts master's programs don't leave out the option to explore contemporary fields that are helping us make data-driven decisions, from data analytics courses to classes in Geographic Information Science.
Overall, earning your liberal arts degree makes you a more aware, inquisitive, and critically thinking member of society: all of the skills that you'll need to be an engaging and effective teacher.  
Becoming a teacher also means learning about the cultural and political shifts that are taking place all around us. With equity and inclusion as the tenets of education and society, many schools are shifting curriculum to ensure they are aligned with the big social movements of our time.
Many schools are even adopting certificate programs, offering students the option to specialize and earn additional credentials in STEM fields, the arts, and foreign languages.
Your liberal arts background can definitely prepare you for the demands of being a teacher in such a rapidly changing world.
How to Become a Teacher – The Conventional and Alternative Paths to Teacher Certification
Let's get the standard process basics out of the way …
And a few more important details …
In any state and at any level in the K-12 setting, first you need a bachelor's degree at minimum. Although that degree is typically in education specifically, there are also many liberal arts degrees that are designed specifically to prepare teachers for the classroom and that meet all the requirements for state licensure.
The bachelor's you choose will have a focus in your specific endorsement area, which at the elementary level typically means a standard multi-subject elementary endorsement. For middle and high school teachers, the focus will be in the content area you're planning to teach. Whether it's PE or art, or English or math, you will find that state-approved providers of teacher preparation programs offer bachelor's degrees with the focus you need. 
In most cases, your bachelor's will include the state approved teacher preparation program that includes the right blend of pedagogical courses and student teaching experiences you need to qualify for state licensure. With your education and field rotations behind you, the final step to becoming a teacher is to pass state exams and become licensed.
And if you earn a liberal arts degree without a teacher prep program …
Figuring out how to become a teacher by earning a liberal arts degree that isn't specifically designed to meet state requirements for licensure is a bit different. It just means that you'll have to follow your state's alternative licensing process. Even though it's called an alternative route, just about every state has a formal, non-standard process in place, and it isn't exactly a path that goes untraveled.
Career changes are common now, and teachers are in short supply in certain subjects. So state boards are glad to accommodate candidates who are eager to start a teaching career, even if they haven't jumped through all the traditional hoops in the exact same sequence as everyone else.  The alternative route typically allows you to begin teaching while earning an advanced degree and gaining your experience through a mentorship program on the job.
There are also options out there that would let you complete the necessary pedagogy courses and student teaching experiences through programs like Teach for America.
It's also worth noting that some private schools may not even require you to hold a state-issued teaching license. A private school, particularly one that has a focus on preparing students for college, may be more interested in hiring teachers that specialize in a given subject area. A liberal arts degree with a focus in one specific area of study, like history or linguistics, may make you an even stronger candidate, making it a phenomenal way to get your foot in the door.
Teaching Elementary School with a Liberal Arts Education
Teaching in an elementary school setting requires many virtues; you must be patient, a model of curiosity and kindness, as well as flexible, energetic, and receptive to students' individual needs. You may teach a variety of ages over the course of your career, and you will need to know a variety of subjects, as you will be responsible for teaching math, English/reading, science, social studies. And depending on your setting, you may also incorporate art and music standards.
When earning a liberal arts degree, you take classes in a variety of subject areas, many of which you will teach in some capacity in the elementary classroom. You can fulfill all of your subject-area teaching requirements—including those for sciences, math, and literature—while earning your liberal arts degree. On top of that, you can take additional courses in sociology and children's psychology.
Want to Become a Middle School Teacher? Be Extra Hire-able with a Liberal Arts Degree
One of the best ways to be hire-able as a middle school teacher is to have credentials that allow you to teach multiple subject areas. While many middle school teachers earn content-specific certifications, middle school is a sort of "middle ground" area where some of your colleagues may have elementary certifications (which allow them to teach any subject within any grade level from kindergarten to 8th grade), some of your colleagues may hold certifications in one subject area, like teaching math or social studies, for middle or high school. Because you can teach middle school with either an elementary or a secondary-level certification, many administrators are open to hiring middle school teachers for multiple, varying positions.
Teaching middle school with your liberal arts degree will allow you to apply the knowledge you developed on diverse topics to a variety of courses. You may get to teach social studies, English, math, or you may even have enough credentials to teach some of those beginner-level language courses. Being a middle school teacher often requires being flexible and eager to immerse yourself in any subject. Your liberal arts degree will give you the tools to do so.
Teach High School Humanities with a Liberal Arts Education
Teaching models like project-based learning (PBL), expeditionary learning (EL), standards-based grading, and more immersive, field-experience learning, are designed with the idea of preparing students to be thoughtful, creative leaders, equipped with the tools to solve some of the world's emerging and dynamic challenges.
That said, many schools are looking to hire teachers who are just as dynamic, and who are confident enough to guide students' learning in various subjects at one time. By studying the liberal arts, you'll become more worldly, more curious, and more equipped to connect students with the questions, activities, texts, and experiences that will make them also fall in love with learning.
Earning a liberal arts degree can prepare you to teach a high school humanities course that combines English and social studies, or an elective course that explores social justice issues or psychology.
Become More Specialized and Teach the Arts
A liberal arts degree is an ideal way to expose yourself to many fields within the fine arts, including painting, sculpting, drawing, graphic design, and music. Now, there was a period of time when many schools were forced to cut these programs and these positions. Art teacher and music teacher jobs were becoming scarcer. But research shows that children across all ages reap academic benefits from learning the arts and practicing music, and many communities—and certainly many private schools—recognize the benefits of teaching arts and aim to retain those positions and those teachers.
Becoming an art or a music teacher is a great way to show students how to be creatives; you get to guide them through the experience of discovering their artistic talents and preferences, and you will also find that because you are not teaching a core subject, you may not have to adhere to the same standards or feel pressured to meet standardized testing requirements. In other words, teaching music or the arts is a great way to get involved in a school and work with young people, without some of the conventional stressors of working in the field of education.
Online Teaching Jobs! Use Your Liberal Arts Degree to Teach Online and Work from Home!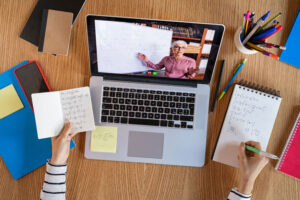 The world of education is changing right now. Throughout the pandemic, educators have pivoted to teaching online, to teaching in socially distant learning environments, and thinking a lot about our jobs and our purpose as educators in general. We've watched as schools closed, reopened with distancing requirements, and moved to hybrid learning models, where students learn through a combination of online and in-person instruction. We have had to change our expectations for what teaching is and what students should be learning in this unpredictable environment.
And with all this going on, homeschooling has gained a bit of traction during the pandemic. With schools closing and many parents working remotely from home, some families decided that the flexibility and autonomy that come with online learning was a better fit for their child, especially since they already adjusted to remote learning anyway.
According to Census Bureau data, 5.4% of U.S. households with school-aged children were homeschooling in the spring of 2020; by fall of the 2020-2021 school year, that number doubled to 11.1%.  
Offering extra support and tutoring for homeschool students offers an unmatched level of flexibility and personal freedom. And since these programs allow you to work remotely from home, these online teaching jobs do not require that you take on additional responsibilities like lunch duties or extracurricular clubs. For those wanting to travel or raise a family, remote teaching jobs can be ideal, and your liberal arts degree can prepare you to teach some of the courses offered in these virtual classrooms.
Teaching Assistant Jobs and Other Roles in the Field of Education
Teaching assistants, teacher's aides, and preschool teacher jobs don't often require that you get fully licensed in the field of education or that you earn additional degrees. Opting for one of these teaching jobs, without the responsibility of being a full-on classroom teacher, is a great way to see if the profession is what you want to pursue.
Earning a liberal arts degree can also prepare you for a future in instructional coaching or administration. You will certainly need some experience in the classroom to do so, and in most cases, you will go on to earn a master's degree in education, but a background in the liberal arts will prepare you with the diversity of knowledge it takes to work with teachers of many subject areas.
Because you will have had exposure to a variety of disciplines, you will feel more confident guiding other educators in those content specialties. A liberal arts degree can also give you the background and skills to prepare for working as a school counselor, adjustment counselor, school secretary, college admissions coach, or even a school librarian. There are myriad ways to get involved in a school, and a background in the liberal arts can prepare you for almost any one of them. 
A Liberal Arts Degree Can Help You Earn Additional Endorsements
It's worth mentioning that, although choosing to teach at the middle or secondary level will require that you earn an endorsement in a specific content area, those who earn a bachelor's degree in the liberal arts could be well equipped to pursue additional endorsements.
In many states, earning a license to teach in another subject area requires that you complete a certain amount of coursework in that subject and complete some kind of student teaching internship in that area as well.
If you have a background in the liberal arts, you may have already taken several courses in that content area, and if you are working as a teacher, your current school may allow you to teach an extra course under the supervision of a cooperating teacher in that subject area.
Having extra credentials never hurts—a bachelor's or master's degree in the liberal arts can give you the tools to being adaptable and dynamic in your position as a teacher.
Do You Need a Master's Degree to Become a Teacher?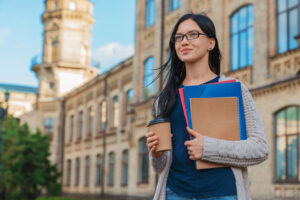 While you don't need a master's degree to begin teaching in most states, data shows that around 58% of teachers in public schools hold a post-baccalaureate degree, whether a master's or education-focused doctorate.
If you hope to move into an administrative position or to become an instructional design coach—or even improve your likelihood of becoming a department lead—earning a master's degree will better equip you to advance in the teaching profession.
Keep in mind also that if you're choosing to become a teacher, it's also because you probably like to learn. The urge to keep learning, especially after you get a few years of experience in the classroom may motivate you to pursue additional education.
Earning a master's degree, especially a master's degree in the liberal arts, can keep you engaged in the practice of learning more teaching methods and exposing yourself to new ideas. Of course, this also makes you a great model for your students. If you pursue a master's in education specifically, it will also help you gain the confidence to try various teaching methodologies and practices in your classroom.
In some states, including California and New York, public school teachers are required to earn their master's degrees within five years of starting their teaching jobs. Be sure to check out your state's specific requirements to see if you need a master's degree, and to see how much your salary will increase if you choose to earn one. In most teaching jobs, earning a master's degree is well worth the cost.
As a graduate student in a liberal arts program, you may even have the opportunity to teach freshmen seminar courses or introductory-level classes in exchange for a stipend or reduced cost on your tuition. This can be an ideal way to see if working in education is something that you enjoy.
Teacher Salary: How Much Do Teachers Make?
Teaching isn't known for making anyone rich. But, depending on where you teach and the package that your union is able to negotiate, you can earn a comfortable living with a teacher's salary.
According to the US Bureau of Labor Statistics, as of May 2020, kindergarten and elementary school teachers earned a median salary of $60,660 per year. Middle school teachers earned just a little more at $60,810, and high school teachers earned the most at $62,870. Since these are national median salary figures, you need to consider that there is a considerable amount of variability by state and district, as well as by level of education.
At the same time, according to data from the US Bureau of Labor Statistics, job prospects for teachers are looking promising. High school teaching jobs are projected to see an 8% increase in the next decade, with middle and elementary school teaching jobs seeing a 7% increase.
More Education Earns You More Money
More often than not, getting your master's degree, whether in education or a field like the liberal arts, will earn you more money as a teacher. A study from the National Council on Teacher quality sampled 124 large districts and found that all but 10 of them offered additional compensation to teachers who earn advanced degrees. Most of these districts have their own pay scales, negotiated with their union representatives, which allow teachers to move up in a "lane" as they earn additional credentials. This means you can continue to earn more each year as you work to complete your master's degree.
The study found that on average, teachers with a master's degree earn more than $5,000 annually than those without one. However, that does vary significantly by district, so if you choose to go back for more education, be sure to look at your district's pay scale.
Teacher Salaries by State
When you choose to become a teacher, be sure that you factor in where you would like to live and teach and what the cost of earning a degree is compared to the salary potential of teachers in that state.
May 2020 data from the US Bureau of Labor Statistics shows the following states offer the highest annual salaries for elementary school teachers:  
Wages for high school teachers are higher. BLS data show that in May 2020, these five states paid the highest yearly salary on average:
Some of the states with the lowest wages include West Virginia, Montana, Idaho, and Louisiana. That said, if you're choosing to teach in those states, you may factor in cost of living and overall quality of life. Either way, with steady job growth and teaching jobs available in nearly all locations, becoming a teacher a lot of security, and room for salary growth.
2020 US Bureau of Labor Statistics salary figures and job growth projections for Elementary, Middle School and High School Teachers based on national data, not school-specific information. Conditions in your area may vary. Data accessed January 2022.