<!- mfunc search_box_body ->

<!- /mfunc search_box_body ->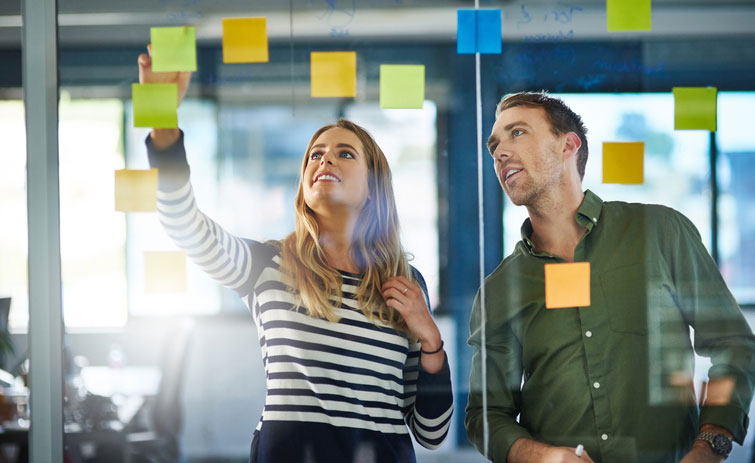 Even spectacular content can easily get lost in the media fray without a strategist behind the scenes that puts a system in place to get it to its intended audience. Content strategists don't get a lot of attention and you'll never see their names on a byline, but they are the wizards behind the curtain bringing effective and impactful media campaigns to life.
<!- mfunc feat_school ->
Featured Programs:
Sponsored School(s)
<!- /mfunc feat_school ->
Naturally, content strategists need to be experts in more than just communication strategies and content management. They need to know a thing or two about business analysis, psychology, and sociology, and have a finger on the pulse of what's happening in pop culture.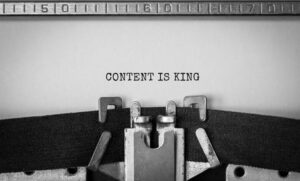 Content in king. It was actually Bill Gates who originally said that back in the '90s. It's a well-worn line even in modern marketing circles because it's as true now as it was then.
Gates might be an unlikely marketing guru in the modern era, but even decades on the Microsoft brand still somehow seems pretty vibrant, enduring even as dozens of other technology brands from that era failed to age well or folded altogether. And the longevity of the MS brand aside, there's also Gates' foray into cable news under the MSNBC brand that speaks to his media savvy. The guy clearly knew as much about public relations and building a brand as he did about writing software.
The methodologies behind developing user-friendly software that people want to use isn't all that different from developing marketing content people want to engage with. It has to look good and feel good, and ultimately serve a specific purpose. At the end of day, it's still about giving people what they want.
Content strategy is all about defining, creating, and delivering content that draws in a target audience and spurs them to a desired action. Good strategists are guided by a real understanding of the brand and a clear vison of short- and long-term brand objectives. They can clearly see how to align content with key brand messages and position it in a way that resonates with the intended audience.
The kind of broad interdisciplinary curriculum and experiences you get in a liberal arts degree program are perfect for this role. The more global your worldview and the broader the scope of your expertise, the better you'll be at developing the kind of content that has mass appeal… or niche appeal, as the campaign may warrant. Not only will obscure, deep-cut references not be lost on you, you'll be able to fine tune your content to the interests and scope of vastly different audiences – from the literati to the TikTok set.
Content Strategist Job Description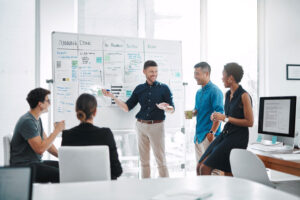 Simply put, content strategy is the planning, development, and management of content in various forms of media. Content strategists are crucial players in user experience design advertising, and marketing. They are tasked with researching, designing, prioritizing, producing, analyzing, and measuring the results of content marketing campaigns delivered through any number of different channels.
What Does a Content Strategist Do?
The role of content strategists varies depending on the goals of the company and the point in the marketing process where they step in. Their main function, though, is to develop strategies based on both the goals of the brand and the needs of the users.
Content strategists:
Content strategists conduct content audits using qualitative analysis methods across company websites, social media accounts and other media properties. Qualitative analysis is just a fancy term for laying eyes on the content and clicking through it to get a sense of what the user experience is like. The qualitative characteristics of a webpage directly impact the quantitative side, including click-through rates and conversations, the point in the user journey where website visitors become customers.
They also offer guidance on technical integration and how to get the most out of the monetized elements of a page without compromising user experience. They create taxonomies and migration plans, all while managing in-house and freelance writers, graphic artists and video editors.
Content strategies aim to drive traffic, convert that traffic to leads or sales, and retain customers. A successful content strategist must be skilled in data analysis and strategic reasoning, and flexible enough to turn on a dime when something isn't working.
From User Experience (UX) to Back-End Optimization, Content Strategists Do it All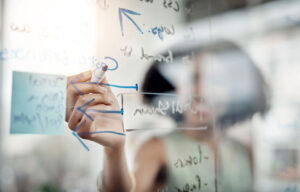 Content strategists can work on either the front- or back-end of a company's content channels, but in most cases they do both. That is to say, they can work on the side that user's see and interact with (front end), and behind the curtain on the side users will never see (back end).
Commonly used in software development, the front-end/back-end terms accurately describe the clear separation of processes when it comes to content strategy and development too:
On either side, content strategists concern themselves with the complexities behind the content, whether that means understanding the psychology and motivations of users, or running the systems that keep content fresh and accessible.
Content Manager vs. Content Strategist
If you were to look for a difference between content strategists and managers in most job descriptions, you would be hard pressed to find a clear difference in what they are expected to do. Sure, if you wanted to come up with a strict definition of these job titles you would find that strategists are more involved in identifying the objectives of a particular marketing campaign or client, and then putting a clear plan in place for how to meet those goals, while managers might be more involved in the content development process and managing the inflow of work from content creators.
In practice, though, these are usually just different titles for the same role. Naturally, with major marketing firms or big companies that have substantial in-house marketing teams, you are more likely to find strategists and managers staying in their own lane, working together, while each maintains a more narrowly defined role.
Content Creator vs. Content Strategist
Strategists develop the system in which content creators – from copywriters to social media specialists – work to deliver the right message to the right audience at the right time.
The big names in media companies would be nowhere without content strategists. Are Google and Facebook household names because of the content that they deliver, or are they known by the world over because of the way that they deliver it? Talented content strategists are responsible for your urge to come back again and again and to buy what they want you to buy and see what they want you to see.
Whether their focus is on digital, UX, web, print, or any other branch of media, content strategists work closely with content creators and content marketers. The jobs are different, but none could be successful without the others. While a content strategist job involves handling the big picture and systems side of things, content creators create the written word, videos, graphics and everything else used to deliver the brand message, entertain and educate end users.
How to Become a Content Strategist
There's no cut-and-dry, prescriptive process to becoming a content strategist, just as there's no one approach, technique, or set of tools that makes a content strategy work. And really, if you wanted a lockstep kind of career path, you'd probably be going into accounting or something, rather than exploring the dark arts of content strategy. 
The Degree You Need to Become a Content Strategist
What you need, though, is a standard set of skills and a good deal of knowledge to put your cultural savvy and creativity to work as a content strategist. That usually starts with a bachelor's degree, often in a field like communications, marketing, or business. Many liberal arts programs offer a focus in exactly the right areas, offering concentrations in media studies and writing.
The well-rounded curriculum you get in a liberal arts program will give you all kinds of insights into things like consumer behavior, market research, communication methods, technology, along with some artistic sensibilities that will definitely come in handy. And it's pretty obvious how classes in art history, psychology, sociology, English lit, writing, anthropology and research methods would serve you better as a content strategist than a program focused solely on, say, marketing.
At its heart, content strategy draws a lot from the core skills and values you develop in a liberal arts degree program. An effective content strategist needs analytical skills to determine the best strategy based on trend data, communication skills not only to understand how to effectively communicate content to an audience and to convey the strategy to a team of managers and staff, but also to tell a compelling story.
Some Boots-on-the-Ground Experience Is Good Preparation for the Role
When getting into the field, it's pretty common for content strategists to work for a few years in other jobs related to developing and delivering content. Someone could make a short jump in their career to a content strategist role from these kinds of positions:
Putting Together Your Content Strategist Portfolio and Resume
A good content strategist resume and portfolio will look different depending on your area of expertise, your specialization in the content marketing process, and the type of media that you are most experienced in. But in all cases, a portfolio of your work will be necessary for that big break, dream job you're ultimately working your way up to.
Along with the opportunities to work for growing companies, content strategists can take on freelance work for a variety of smaller business clients, and provide consultation services. With the long-view in mind, this is the kind of thing you might go into as much for the portfolio-building prospects as for the money.
And if you take the liberal arts degree route, you'll find it folds in interdisciplinary learning, strong ties to the community, an embrace of diversity, one-on-one mentoring, and unique internship opportunities, all of which give you a chance to put your creativity, critical thought, and global perspective to work. That could mean adding a page or two to that portfolio even before you graduate.
Content Strategist Salary
Like with any job, content strategist salaries can vary widely depending on the company and location. The U.S. Bureau of Labor Statistics publishes reliable data on content strategist salaries under the umbrella of advertising, promotions, and marketing managers.
While a senior content strategist at a big company earning in the 10 percent rakes in more than $208,000 a year, a junior content strategist salary at a smaller firm would likely come in at around $70,000 at the lower end of that range. The median salary for content strategists falls at $141,490 annually. Either end you look at, it's a lucrative profession.
The highest-paying industries for content strategists are in the medical realm with pharmaceuticals, medicine manufacturing, and medical equipment and supplies manufacturing companies paying an annual average salary of $176,420 to $189,550. Cable and subscription programming doesn't come in far behind, paying an average of $170,860.
One thing you can be sure of is that as long as companies do what companies do – pursue growth by identifying new and creative ways to connect with consumers – the demand for talented content strategists will remain strong.
2020 US Bureau of Labor Statistics salary figures for Advertising, Promotions, and Marketing Managers reflect national data, not school-specific information. Conditions in your area may vary. Data accessed November 2021.