<!- mfunc search_box_body ->

<!- /mfunc search_box_body ->
The days of throwing the same textbook at the full range of students year after year and expecting it to result in successful learning across the board are long over. Even in a traditional classroom environment, online curriculum delivery and other unconventional methods of keeping students engaged and actively learning are a big part of education today.
As schools look for the best ways to serve a diverse population of students with different needs and abilities and individual goals, instructional designers are being called in to help. It's their job to analyze current curriculum and teaching strategies and determine what works and what doesn't, and design systems that allow for successful learning experiences, all backed up by data that tells a story of successful learning outcomes.
Instructional design is an evolving field, and no one is better suited to adapt to change than liberal arts graduates. The versatility, creativity, and critical thought built into a liberal arts degree are precisely the traits needed to fill an instructional design role in a rapidly changing world.
<!- mfunc feat_school ->
Featured Programs:
Sponsored School(s)
<!- /mfunc feat_school ->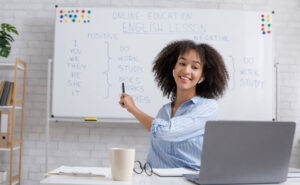 While the concepts of instructional design have their origins in the 1940s and much has advanced in the decades since, even in the short term we can track the changing needs of today's students. The sudden shift to distance learning in the spring of 2020 brought the need for new and innovative ways of delivering curriculum to the forefront. Overnight, concepts like how students learn and what methods are best for teaching them became part of dinner table conversations around the country.
In an era where public school systems are held accountable for test scores and graduation rates, there's a stronger focus on hitting student achievement metrics than ever before. Not surprisingly, districts are turning to instructional designers for help developing more effective teaching strategies. Delivering an effective learning experience in the modern educational system is no simple task, but it's a challenge that skilled instructional designers are definitely up for.
Instructional Designer Job Description
In a nutshell, instructional design jobs involve analyzing the specific needs of learners, developing instructional material, implementing that material, and then assessing how effective it is. It's much more than simply putting together a lesson plan, but instead involves a systematic approach to evaluating and improving teaching. It's clear from this instructional designer job description that the position calls for innovative minds with a broad foundation of knowledge and a deep understanding of cognition and the learning experience.
What Is Instructional Design?
At its core, instructional design is the practice of designing, developing, and delivering instructional experiences and materials. Instructional design is systematic in striving to make learning experiences more effective, engaging, and efficient.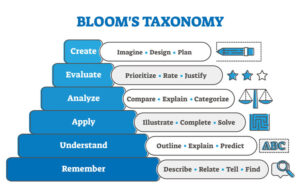 In addition to an understanding of cognitive and behavioral psychology and the way that people learn, instructional designers examine the foundational models of learning to understand their phases and objectives. Some of the more popular learning models that form the framework for instructional design include:
The theories behind instructional design are critical to being able to put strategies into practice, even as times change.
Instructional designers, also known as instructional coordinators, possess a well-rounded set of traits to set them up for success in the job. The analytical, communication, and problem-solving skills inherent in a liberal arts education are put to work in instructional design jobs.
Instructional designers assess test data, current materials, curriculum standards, technologies, and teaching techniques to train and mentor teachers and other instructors in how to improve their skills and becoming more effective educators. The emphasis on leadership and interpersonal involvement that most liberal arts programs have lend themselves to establishing powerful guidance and working relationships with educators and administrators.
Instructional Design Vs. Curriculum Design
While instruction and curriculum are inextricable, the terms instructional design and curriculum design are not entirely interchangeable.
In simple terms, you can think of it this way…
Curriculum design deals with what is being taught, identifying the specific skills and knowledge students need at different levels and the specific topics that should be covered.
Instructional design deals with how that curriculum is being taught, looking into teaching methods, strategies, and even the technology platforms and other tools used to deliver curriculum and keep students engaged.
Curriculum and instructional design jobs overlap enough that it's not unheard of for professionals working for independent curriculum design firms to both develop curriculum along with the methods and strategies for delivering it. But the distinction between curriculum and instruction must be noted as the specialties diverge in important ways, even though they work closely together.
Where are Instructional Design Jobs Found?
Of course, instructional designers most often work directly for or contract with elementary and secondary schools, as well as colleges and universities. But there are also some serious opportunities to be found in businesses that need to train employees on products, projects and protocols, and refined methods of instruction are seen as a key part of efficiently developing a skilled and knowledgeable workforce.
They are also found in state and local government agencies totally unrelated to public education where a lot of staff need a lot of training on a regular basis. Along those lines, they even have a role in the military where hundreds of thousands of people need to be taught and trained every year in everything from rote tasks to the advanced technical skills needed to operate surveillance and weapons systems.
Some even find freelance work with instructional design contract jobs.
Even within a certain industry, instructional designers can specialize further. For example, instructional design jobs in schools can focus on specific grade levels or even particular programs such as special education or English as a second language. And of course, designing learning experiences for a 3rd grader is vastly different from designing employee development programs for a Fortune 500 company or perfecting training for personnel in a military branch.
As education and companies are moving online, so are instructional designers with remote instructional design jobs increasing in availability.
How to Become an Instructional Designer
There are many different paths you can take to become an instructional designer, and everyone's is a little bit different.
What Kind of Degree Do I Need to Become an Instructional Designer?
Building on a strong undergraduate foundation that can include everything from an education to a liberal studies major, instructional designers are generally expected to hold a master's degree at minimum.
Master's programs specifically geared toward future instructional designers go by many names, including:
Some colleges offer instructional design graduate and post-master's certificates, as well.
But this is not the kind of role that requires a prescriptive educational plan, so that master's degree can be in any number of different areas depending on the niche that you want to go into. Generally, instructional designers would earn a graduate degree in education or curriculum and instruction, while others who specialize in certain subjects or general areas like STEM or humanities may have degrees specifically in those fields. It's more than possible to find undergraduate liberal arts degree programs with an emphasis in your area of specialty, which would in turn lead to a higher rate of acceptance into a related master's program.
Do I Need to Be Licensed to Become an Instructional Designer?
In addition to a master's degree, instructional designers who work in the schools would need state licensure, either teaching or administrative, issued through their state board of education.
Working in a role that does not put you directly into the schools, however, wouldn't require you to be licensed, and more and more, these jobs are found in consultancies and private sector curriculum development companies outside of the school system.
What Kind of Background Experience Do Instructional Designers Have?
The focus on mentorships, networking, and internships that many liberal arts colleges take pride in can give you a leg up in the industry. Since there's no one set route to becoming an instructional designer, all kinds of diverse experiences that build character and a global perspective would prove useful.
Often instructional designers begin their careers as teachers or instructional leads before moving on to instructional design jobs. While teaching isn't the only path to instructional design work, it can be a very natural career progression for many educators.
Instructional design isn't always where educators stop either. Some go on from there to become superintendents after years of experience and further education in doctoral programs.
Instructional Designer Salary
According to the U.S. Bureau of Labor Statistics, instructional coordinators earn a median salary of $66,970 per year. Those just starting out in an entry level instructional design job may make close to $40,000 (lowest paid 10 percent), while the highest paid instructional designers earn more than $105,650 a year.
Jobs with the federal government tend to be the most lucrative for instructional designers, with an average salary of more than $99,000, while by comparison, elementary and secondary schools pay an average of $72,070. Those working in educational support services earn an average of $73,550, while at colleges and professional schools the average is just over $67,000.
The BLS also anticipates strong and steady growth in instructional design jobs, with a projected increase of 10 percent during the ten-year period leading up to 2030. Instructional designers will need to rise to the challenge of adapting to an education system that is shifting more and more to online and hybrid learning. And it's not just the needs of students that's driving demand. Teachers require regular training to continue to meet achievement standards, adding to the demand for instructional designers.
Starting out with a liberal arts undergraduate degree program provides a solid base to build upon as you work your way to becoming an instructional designer. From the broad foundation of knowledge taught, to the practical skills that can carry over to the career, to the deep connections made that can help you along on your journey, a liberal arts degree with an educational studies or instructional design focus can offer a unique advantage to future instructional designers.
2020 US Bureau of Labor Statistics salary figures for Instructional Coordinators reflect national data, not school-specific information. Conditions in your area may vary. Data accessed November 2021.