<!- mfunc search_box_body ->

<!- /mfunc search_box_body ->
As Johns Hopkins University's Master of Liberal Arts program progresses through its 60th year, students, faculty, and anyone with a passion for lifelong learning have a burning question to face: how has the liberal arts tradition changed over time?
<!- mfunc feat_school ->
Featured Programs:
Sponsored School(s)
<!- /mfunc feat_school ->
With data and AI dominating the economy and the headlines, the world has developed a larger need for technical specialists. But as progress marches on, the social and ethical implications it carries loom large — and the public is rightfully concerned.
According to the Pew Research Center, 46% of Americans think large tech firms are having a negative effect on the country. 56% think the same thing about financial institutions and an astonishing 71% extend that attitude to large corporations overall. However, corporate anxieties are only part of the issue. Battles over healthcare reform, gun laws, LGBTQIA rights, school policy, and socio-economic and racial inequality leave society seething. The world needs big-picture thinkers and well-rounded leaders. But just as importantly, it needs conscientious people working at every level in every organization in every community.
Dr. Laura DeSisto, Director of JHU's Master of Liberal Arts program, says the university's program is focused on creating exactly those kinds of people:
"Our program has always been topic- and question-driven. We're not bound by some external definition of what an MLA student is supposed to study. We're not bound by a canon. We're interested in the lived experience — in understanding it better, exploring it better, and bringing together as many different ways of looking at, perceiving, interrogating, and questioning it."
But despite liberal arts being perhaps more relevant than ever, Johns Hopkins isn't resting on its laurels. In an interview with LiberalArtsEDU.org, Dr. DeSisto discussed what makes the MLA program at Johns Hopkins so unique, so inclusive, and so applicable to the lives and careers of its diverse student population.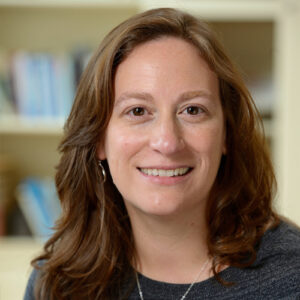 After earning her PhD in Philosophy and Education from Columbia University, Dr. Laura DeSisto has shared her interest in the existential underpinnings of learning as a postdoctoral fellow at Lawrence University, an assistant professor at Appalachian State University, and associate dean of academic programs at Regis University. In 2020, she hosted a workshop about promoting liberal arts programs for the Association of Graduate Liberal Studies Programs, in 2021, she contributed a chapter to a book on the history of Western education philosophy, and in 2023 she was an invited participant at the "Revolutions in Liberal Education" colloquium held at Ursinus College. Since 2017,  she has served as Program Director and a senior lecturer for Johns Hopkins University's Master of Liberal Arts program. She also serves as a Board Member for the Association of Graduate Liberal Studies. Throughout her diverse career, Dr. DeSisto has remained focused on promoting the importance of a well-rounded education and issues of the social justice in education.
Multitudes Within Multitudes: A Twist on the Traditional Liberal Arts Curriculum
Liberal arts programs are defined by their multidisciplinary curriculums — some social history of medicine, a dash of Western political philosophy, and maybe a sprinkling of data analysis to give it a 21st century flavor. However, in many programs, those ingredients aren't necessarily blended together.
But at Johns Hopkins, Dr. DeSisto says each MLA class is crafted to specifically avoid this issue:
"Our faculty bring together a range of different disciplinary perspectives. Within any one particular course, a student is studying a topic or question from a literary perspective, a philosophical one, a historical one, a sociological one. It's what I call interdisciplinary by design. It's not what people think of as multidisciplinary, where a student can take a mix of history courses, philosophy courses, literature courses, what have you."
In keeping with that philosophy, Dr. DeSisto says JHU's MLA program offers an impressive range of department-specific courses:
"Our courses are designed by our faculty, specifically for our program and our students. In other MLA programs, there might be one or two courses in the base program, but by and large, they send their students out across the university where they scatter, planting themselves in different courses being offered within different departments."
For instance, MLA students with an interest in medicine can take Social History of Medicine, a course that covers the relationship between socio-economic circumstances, war, and medical advancement. And when students take Through a Glass, Darkly: American Film Noir, they don't just talk about the lighting style that made the genre so famous. They dive deep into the cultural anxieties that fueled its popularity.
As Dr. DeSisto alludes to, this Herculean effort is only possible through the work of the program's dedicated faculty who approach their fields with just as much curiosity and wonder as their students:
"Our faculty, even though they're traditionally-trained academics like myself, they're all drawn to our interdisciplinary approach. They thrive in an environment in which they get to teach courses that go across those different disciplinary boundaries. They're constantly emailing different course ideas that bring together different perspectives. That makes them particularly well-suited to teaching within the MLA program and they also really enjoy working with our students."
The Typical MLA Student Isn't So Typical at JHU
To Dr. DeSisto, JHU's course construction is central to what goes on outside the classroom, as well:
"It allows our students to create a really strong sense of community with one another as they take the courses with each other. Here, students stay together. Our faculty really get to know the MLA students well and know how to craft courses that are interesting, challenging, rigorous, and also responsive to our students' interests and needs."
But what's even more impressive is that this flourishing student community is as welcoming as it is tight-knit:
"We have students from all over the United States and a number of international students. And since we are primarily online, those international students are either based here in the U.S. or elsewhere around the globe. We also have U.S. students who are expats for any number of different reasons. And half of our student population is between the age of 40 and 85 years old. I don't like to overemphasize age in general in my life, but I do think it's really important in terms of the MLA program because I think a lot of people have assumptions about who the average graduate student is and our student population disrupts those assumptions."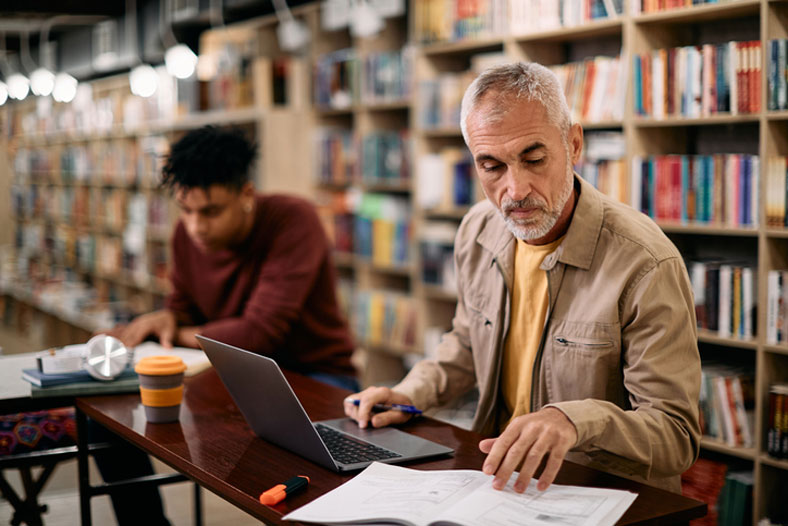 Imagine taking a class about global family structures with students from different continents. Or learning about Cold War politics with people who experienced life on both sides of the Iron Curtain. Or even discussing the nuances of modern black political thought with activists who have been at the frontlines of its development. These interactions can turn a liberal arts education into a defining life experience:
"It's really tremendous. That's the energy that our students are bringing to the program. If we didn't have that, if we didn't have that level of student buy-in and motivation and energy, there would be a risk of conversations becoming one-sided. And part of what makes us so unique is that we really get to enjoy that multiplicity of voices and perspectives, and our students are willing to share their points of view, even when they disagree with each other, and navigate those sometimes challenging spaces with one another."
A Springboard into Direct Community Action
Despite their different backgrounds and interests, the faculty and students of Johns Hopkins' MLA program have one thing in common. They want to have an impact. They want to uplift their communities and be catalysts for a better world.
But how?
To answer that question, Dr. DeSisto points to the varied paths the program's alumni take. First, she says many former students find homes in academia:
"We've had some of our students go on to do further graduate studies. We've also had a number of students recently publish books that are very much relevant to the communities in which they live."
For instance, Dr. Lisa Serice (who earned her MLA and Doctor of Education from Johns Hopkins) has gone on to publish in-depth explorations of the relationships between cognition, exercise, learning, and well-being while also working for the YMCA and her alma mater.
Other alumni have gone on to tackle their communities' systemic issues:
"We have a fairly prominent alum Edward Doyle-Gillespie who's a part of the Baltimore Police Department. He recently published a book of poetry called Gentrifying the Plague House, and he has been instrumental in creating opportunities for dialogue among police that are of a more humanistic level for improving the ways in which they interact with the diversity of the communities they serve."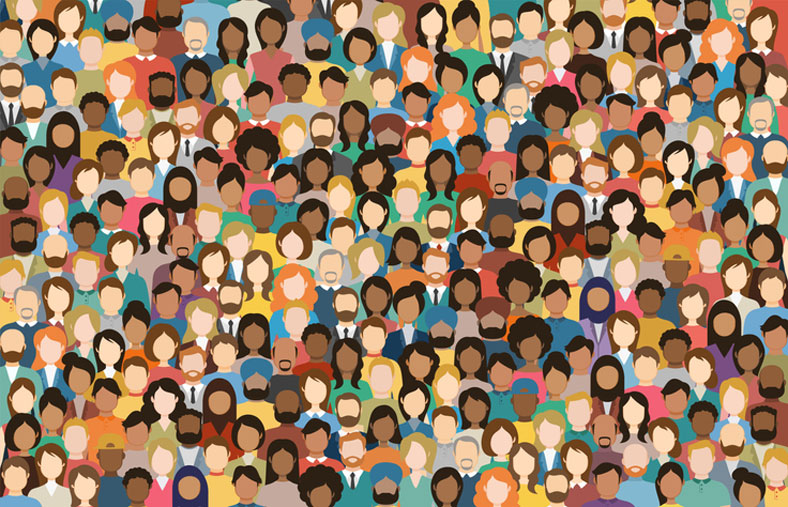 Some, Dr. DeSisto says, have used work they completed during their time in the program to inject a sense of greater purpose into their existing careers:
"I've had students who are artists go on to do some really creative murals and billboards and different sorts of things that convey ideas that are important to them and their communities. Then, we have individuals who are leaders within their organizations. They've come back to me and shared that work they've created in our classes has gone directly into trainings they've done within their organizations for diversity, equity, and inclusion initiatives.

"We also have a number of students who are teachers and they've taken the work they've done in our classes and brought them back into their school communities to improve their classroom instruction or foster professional development among fellow teachers."
But no matter where JHU's MLA graduates end up, Dr. DeSisto never ceases to be amazed at their ingenuity, commitment, and compassion:
"Our students go on to do everything that you can imagine and everything in between. What's inspiring to me is that it plays out on so many different fronts in so many different ways among our alumni. They remain engaged and connected and committed to serving the communities around them."