<!- mfunc search_box_body ->

<!- /mfunc search_box_body ->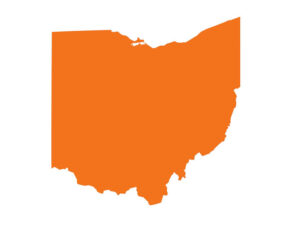 Ohio is the quiet one in the room, but the Buckeye State is starting to get recognized for all the right reasons thanks to a thriving cultural arts scene, high-tech sector and economic strength that makes it the envy of the Midwest.
To state the obvious, it's pretty darn beautiful here. Its landscape is gorgeous and lush, and one look at the Cuyahoga River gorges and you're sure to fall in love.
Ohio is also no shrinking violet when it comes to doing business. It's long been known for its affordability and pro-business climate, and a 2021 CNBC survey ranked it tenth in the nation among the best states for its strides in technology and innovation. It holds a unique position that's about halfway between the major cities of New York and Chicago, and Boston, Washington D.C., Philadelphia, and Nashville are all within a day's drive.
<!- mfunc feat_school ->
Featured Programs:
Sponsored School(s)
<!- /mfunc feat_school ->
Healthcare is big business here. Ohio's Cleveland Clinic is world-renowned and among the nation's top hospitals in the areas of cardiology and heart surgery. It's a cultural destination, too, with the Cleveland Museum of Art, the Cincinnati Art Museum, and the Columbus Zoo and Aquarium all earning national recognition.
Ohio is also serious about creating a better tomorrow for the people who call it home. Grassroots movements, legislative agendas, and nonprofit crusades focused on today's most pressing issues like clean energy, the protection of pubic lands, climate change, and racial injustice are alive and well in Ohio, calling on advocates, professionals, scientists, and lobbyists in nearly every nook and cranny of the state.
A bachelor's or master's degree in liberal arts is right at home in Ohio, where artists, social scientists, activists, scientific professionals, and more work to ensure that Ohio's innovation and ingenuity are only topped by its commitment to the greater good and a better tomorrow.
Whether you're a recent graduate looking for a traditional, four-year liberal arts program or a career changer who's in search of an online master's degree in liberal arts, Ohio's liberal arts colleges have something for you.
Become Part of the Film, Media and Performing Arts Scene in Ohio with a Degree in Liberal Studies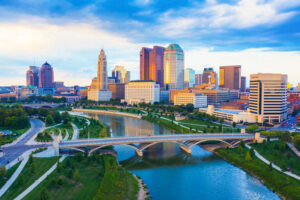 The performing arts has long been a source of pride for Ohioans, and for good reason. The Cleveland Orchestra is arguably among the best in the world, and the Cincinnati Symphony Orchestra has also earned itself a reputation for being among the finest. Regional orchestras in Columbus, Dayton, Toledo, and Akron are also part of Ohio's commitment to classical music.
But it's not all classical here. The Rock and Roll Hall of Fame and Museum, which has served as Cleveland's pride and joy since 1995, hosts an outstanding selection of rock and roll artists every year.
Ohio's film industry also continues to grow, and both Cleveland and Cincinnati were recognized by MovieMaker Magazine in 2021 as some of the best places in the country to live and work as a moviemaker. Just some of the films that shot scenes in Ohio in recent years include the Avengers, Captain America, and White Boy Rick.
A well-established pool of crew members and an industry ripe with growth have made Ohio the place to be for artists with an endless supply of creativity and a background in the liberal arts. Colleges of liberal arts in Ohio provide aspiring artists with the inspiration they crave and the programs that make them problem-solvers, outstanding communicators, and masters of self-expression.
Join the Scientific Community in Ohio with a Degree in the Liberal Arts and Sciences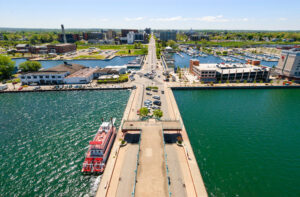 Scientific inquiry leads to some of the most interesting professional opportunities for liberal arts graduates looking to tackle some of the biggest challenges of today.
For example, a team of Ohio wetlands and water quality scientists from several of Ohio's top universities recently began work on a wetland program called the Lake Erie Aquatic Research Network (LEARN), which is based on the state's H2Ohio water quality improvement program. This project looks to answer the question of how we can effectively manage wetland restoration in Ohio and ultimately improve Ohio's water quality.
It's this type of important work that has created truly exceptional opportunities for liberal arts students to get involved and change the trajectory of Ohio's future for the better.
How a Liberal Arts Education in Ohio Can Prepare You to Work in the Social Sciences
Professionals in Ohio's social sciences are focused on improving the quality of life for society and the citizens within it. With an interdisciplinary skillset achieved through a bachelor's or master's degree in liberal arts, graduates of liberal arts degrees serve as social workers, environmentalists, activists, policymakers, and more to find solutions to some of Ohio's most pressing issues like opioid addiction, infant mortality, and environmental pollution.
Environment conservation efforts, grassroots efforts to improve racial inequality, and solutions for eliminating plastic waste are all in the wheelhouse of Ohio's social scientists who work to provide a better tomorrow for Ohioans and the place they call home.
Colleges of Liberal Arts in Ohio Offering Bachelor's and Master's Degrees
Antioch College Yellow Springs, OH
Antioch College is a leader in education innovation. More than 100 years ago, it became the first college in the nation to integrate cooperative education within an undergraduate liberal arts curriculum. Students of Antioch learn by doing, and work-based co-op education, cultural immersion experiences, and problem-based projects are just part of what makes Antioch a truly educational experience for undergraduate students. A focus on collaboration and communication and a curriculum that's approached through a global lens allow students to engage in work that's focused on improving humanity.
Antioch College Online Yellow Springs, OH
Antioch University's commitment to a nonsectarian, co-educational experience that's focused on innovation and progress is longstanding and unwavering. Students here engage in experiential learning programs that are integrated into every program of study and focused on making positive change in the world. Earn your liberal arts education through Antioch University and you'll enjoy intimate classes, a responsive and knowledgeable faculty, a personalized course structure that includes a nice selection of both online and low residency programs, and adult classrooms that boast a supportive and engaging environment.
Case Western Reserve University Cleveland, OH
Case Western Reserve University's boasts a liberal arts education that's complemented with research opportunities, international experiences, and a dynamic campus environment. It ranks among the leading research universities in the nation and has earned accolades for its commercialization of research. Cutting-edge facilities, including a 50,000-square-foot world-class makerspace and several interdisciplinary programs and centers aimed at work in international studies, history, philosophy of science, women's studies, and more are part of this university's commitment to innovation.
Malone University Canton, OH
Malone University integrates faith and learning into a dynamic learning environment that boasts world-class scholars and a curriculum that ranks it among the Best Regional Universities by U.S. News & World Report.
Otterbein University Westerville, OH
Otterbein University was one of the first co-educational institutions in the nation and one of the first to introduce an integrative studies curriculum. Founded in the liberal arts tradition, committed to serving the public good, and focused on providing an immersive learning experience, Otterbein offers more than 70 majors and individualized courses of study for a truly personalized learning experience.
Cedarville University Cedarville, OH
Cedarville University boasts a three-year employment average of nearly 98%, a diverse community of learners from more than 49 countries, and a strong reputation for professor engagement. More than 150 areas of study, top student satisfaction ratings, and a title as one of the top Christian colleges in the Midwest are just three more reasons why Cedarville has become a beacon for liberal arts students.
Denison University Granville, OH
Denison University boasts a low, 9:1 student-to-faculty ratio, a faculty of teacher-scholars, interactive and collaborative learning experiences, and outstanding opportunities for original student-faculty research. It's also home to four centers that are focused on ensuring students successfully transition from classroom to career: an award-winning career center; a Design Thinking & Entrepreneurship Lab; Denison Edge, which offers programs in data analytics, finance, management, marketing, sales, human resources, and more; and the Liska Center, a source of funded research and scholarship opportunities.
Franklin University Columbus, OH
Franklin University is where working adult learners complete high-quality, career-focused degrees that prepare them for success. Students here can choose from study at the university's main campus in downtown Columbus or from its many online academic programs for the best in convenience and flexibility. Franklin University boasts an alumni network of more than 45,000 and a status as one of the largest private universities in the state. Partnerships with more than 135 community and technical colleges make continuing your education easier and more affordable than ever.
Union Institute & University Cincinnati, OH
Union Institute & University offers both undergraduate and graduate degrees through fully online courses of study for today's adult learners. Programs in education, social justice, public service, healthcare, and more provide students with relevant, robust courses of study that have been ranked among the Best Online Programs by U.S. News & World Report.
Wittenberg University Springfield, OH
Wittenberg University provides a liberal arts education in the Lutheran tradition. This university is committed to providing students with personal attention, collaborative research opportunities, and the option to design their own majors through creative course combinations. Outstanding professor mentorship, a first-rate academic advising program, and an alumni network that includes founders of Fortune 500 companies, innovators, entertainers, humanitarians, and high-level politicians make Wittenberg and outstanding choice for the liberal arts major.