<!- mfunc search_box_body ->

<!- /mfunc search_box_body ->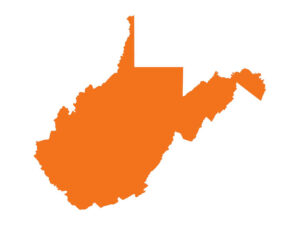 Mining and mountain mommas might come to mind when someone thinks of West Virginia, but the state also has numerous liberal arts colleges with foundational degree programs that provide students with the transferable life skills needed to succeed in an ever-changing world.
Even with these amazing resources, West Virginians have the lowest percentage of people with bachelor's degrees in the country. Liberal arts students are the ones who can change that and carry their degrees out into the community to serve in the arts, sciences, or social sciences.
Become Part of the Film, Media and Performing Arts Scene in West Virginia with a Degree in Liberal Studies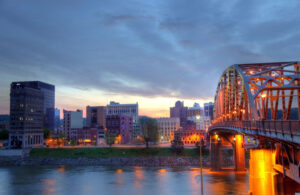 The West Virginia Department of Tourism's Film Office brings travel and film together, attracting media producers in film, television, music videos, and web projects to the state for its scenic vistas and country roads, along with its talented film and media professionals who hail from West Virginia's liberal arts colleges. The Film Office makes locations, hospitality, and workforce experts available to filmmakers interested in shooting in the state.
The West Virginia International Film Festival screens films from around the world with the passion of an organization that understands the positive impact of the art form. It's an event that film enthusiasts making the most of their college experience can take advantage of every year.
West Virginia is known for its Appalachian folk music tradition, but it's not all fiddling and ballad singing in the state. Talented performing artists in the West Virginia Symphony Orchestra and Wheeling Symphony Orchestra perform for classical music fans. In fact, Pulitzer Prize-winning modern classical composer George Crumb earned his bachelor's degree in West Virginia.
Join the Scientific Community in West Virginia with a Degree in the Liberal Arts and Sciences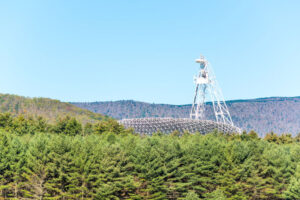 At the Green Bank Observatory in the National Radio Quiet Zone in West Virginia's Allegheny Mountains, scientists are listening to the universe whisper. With the Robert C. Byrd Green Bank Telescope, the world's largest steerable radio telescope, astronomers, physicists, data analysts, and other scientists and researchers work to solve the mysteries of the universe.
Originally established by the National Science Foundation, the observatory now partners with West Virginia University. Advancing research, innovation, and education, the Green Bank facility is a huge asset to the research community. College students focusing on science find a supportive research community at Green Bank to start making contributions to the fields of science and technology.
The National Science Foundation recently awarded a team from West Virginia University's Eberly College of Arts and Sciences millions to run the NANOGrav Physics Frontiers Center to observe gravitational waves. Ten other physics frontiers centers across the United States collaborate and share their work in theoretical biological physics, quantum information, nuclear astrophysics, and more.
Not all science being done in West Virginia is looking toward the stars. A professor recently received a grant from the Environmental Protection Agency to research methods for wetland restoration, as the ecosystems crucial to biodiversity and flood mitigation have been destroyed across the state.
Scientists are doing remarkably interesting and beneficial work in West Virginia, and getting a liberal arts degree in science is what it takes to get started.
How a Liberal Arts Education in West Virginia Can Prepare You to Work in the Social Sciences
West Virginia's poverty rate is one of the worst in the nation and West Virginian health is suffering with high occurrences of things like cancer, diabetes, low birth weights, drug deaths, and teeth loss and a lower life expectancy than average.
In the state's natural areas, environmentally conscious professionals work to preserve the biodiverse beauty of West Virginia, from New River Gorge National Park and Preserve to Blackwater Falls State Park, along with so many more areas throughout the rolling hills and mountains of the Appalachian region.
Historians are also at work to protect and educate the public on the state's many historic sites, like the Weston Hospital, which is the largest hand-cut sandstone building in the Western Hemisphere and designated as both a National Historic Landmark and as part of the National Civil War Trail. Harpers Ferry is another historic site, which also serves as the headquarters for the Appalachian Trail Conservancy.
While coal is a major resource in West Virginia and a significant contributor to the economy, the state has great potential for renewable energy sources such as wind. It's going to take the persuasive communication skills and creative minds of liberal arts graduates with knowledge of energy technology and environmental studies as well as talented and trustworthy economists to guide the state through a successful transition.
Colleges of Liberal Arts in West Virginia Offering Bachelor's and Master's Degrees
Alderson Broaddus University Philippi, WV
Alderson Broaddus University is a Baptist-affiliated college founded 150 years ago. Alderson Broaddus University has health-related and professional education programs based on the foundation of a liberal arts education, dedicated to civic engagement, communication, critical thinking, diversity, and ethics.
Ohio Valley University Vienna, WV
Ohio Valley University integrates Biblical faith and higher learning. The Christian liberal arts institution has a low student-to-faculty ratio of 10:1 for a personalized experience.
West Virginia Wesleyan College Buckhannon, WV
West Virginia Wesleyan College prepares students for leadership and promotes the skills, values and perspectives needed to be successful in employment. Founded in 1890, the liberal arts college is affiliated with the United Methodist Church.
Wheeling University Wheeling, WV
Wheeling University is a Roman Catholic university established in 1954. The faith-based learning programs have a faculty member for every 11 students and a small average class size of 16, allowing for individual attention and strong connections.