<!- mfunc search_box_body ->

<!- /mfunc search_box_body ->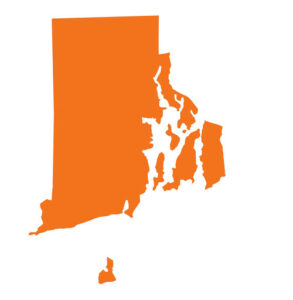 Informed and engaged graduates of the liberal arts colleges in Rhode Island can make a big impact in the nation's smallest state.
Rhode Island is not small in character. The state has a rich New England culture and a remarkable place in United States history. Along with seaside towns and sandy shores, there are large cities such as Providence, home to world-class liberal arts colleges.
Traditionally, Rhode Island's economy has been held up by a community of makers–professionals in shipbuilding, submarine construction, jewelry making, and machine fabrication. While these occupations may not jump to mind when considering a career after graduating from a liberal arts college in Rhode Island, they all require creative minds and skilled innovators.
<!- mfunc feat_school ->
Featured Programs:
Sponsored School(s)
<!- /mfunc feat_school ->
It's guaranteed that liberal arts students today will go on to careers that have not even been created yet. A broad liberal arts foundation that trains students in critical thinking and social responsibility empowers them to deal with change, and remain life-long learners.
Graduates with bachelor's or master's degrees from liberal arts colleges in Rhode Island have opportunities to apply to a long list of local Fortune 1000 companies, such as Citizens Financial Group, CVS Caremark, and Hasbro.
Become Part of the Film, Media and Performing Arts Scene in Rhode Island with a Degree in Liberal Studies
The state's picturesque and historic locations along with a tax credit for motion picture productions draw filmmakers to the state, giving liberal arts graduates who focus on film and media the opportunity to break into the industry. Salve Regina University, a liberal arts college in Rhode Island, boasts the fun fact that the movies "True Lies" and "Irrational Man" were filmed on its campus. Popular films like Brad Pitt's "Meet Joe Black" and Steve Carell's "Dan in Real Life" were also filmed in Rhode Island.
The Rhode Island School of Design, which is affiliated with Brown University, is a studio arts college with a liberal studies foundation. Students are encouraged to take risks and experiment. The presence of this progressive design school as well as more traditional liberal arts colleges contribute to the vibrant creative and artistic community in Providence.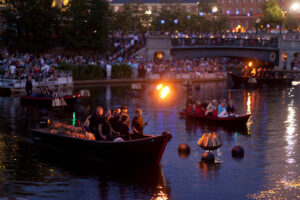 WaterFire, which began as a free public art installation by sculptor Barnaby Evens, has transformed into an annual public experience in Providence. In addition to a sculpture, it's a performance work and communal ritual. WaterFire, which involves dozens of braziers burning near the surface of the rivers that flow through the city, symbolizes both inclusion and expansion and the strengthening and preservation of the community. During the ceremony, people join together to walk the riverfront and listen to music from around the world. Ten thousand to 100,000 people attend per night as the event runs from May to November.
Students getting either traditional or online liberal arts degrees in Rhode Island with an emphasis in the arts, whether film, fine art, or performing arts, will be in an atmosphere where they feel free and comfortable to express themselves in any art form.
Join the Scientific Community in Rhode Island with a Degree in the Liberal Arts and Sciences
Rhode Island puts policies in place that position the state on the cusp of scientific and technical progress in practical ways.
It was one of the first states to announce that it was committed to putting millions of electric vehicles on the road by 2025, in an effort to reduce greenhouse gasses and other smog-causing emissions. The plan, in conjunction with other states, promotes electric vehicles as well as investment in electric vehicle charging infrastructure. This ambitious plan will need engineers and developers with the skills to clearly see the social impacts of their work.
Environmental scientists have been doing important work in Rhode Island. The state has received Environmental Protection Agency funding for assessing and cleaning up brownfield sites, which are potentially contaminated lots of land that have been previously developed and are not currently in use.
Rhode Island gives liberal arts graduates who earn degrees focusing on the sciences exciting opportunities to progress the quality of life and the quality of the environment by applying their analytical thinking and practical knowledge to the scientific problems the community faces.
How a Liberal Arts Education in Rhode Island Can Prepare You to Work in the Social Sciences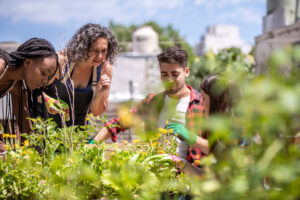 Liberal arts graduates receive an education grounded in the human experience that connects them to the community in a way that allows for unique insights and instills a desire for strong engagement, making for incredible social science professionals.
While Rhode Island is small, it's the second most densely populated state in the country. While it has forward-thinking programs like comprehensive health coverage, many children are in poverty in urban areas. Rhode Island is known for its large social safety net, and a system like that needs to be examined, managed and implemented by knowledgeable and engaged social scientists. Policymakers, social workers, and public health officials are needed to continue the work that Rhode Island has started in bettering the lives of its residents, young and old.
Rhode Island also spearheads innovative projects like the "Lots of Hope" program, intended to improve urban neighborhoods by increasing green space as well as food production by turning vacant lots into urban farms.
Historians in Rhode Island have a significant history to preserve, including sites of national significance from the Colonial era and the Revolutionary and Civil wars. The state has been home to Colonial settlers, Revolutionary War generals, Continental Army leaders, a signer of the United States Declaration of Independence, and innovators in the Industrial Revolution.
Unfortunately, the unemployment rate is high in Rhode Island after its steep rise in 2020. It will take talented economists and politicians who have been educated by the colleges of liberal arts in Rhode Island in finding creative solutions to this complex problem.
Liberal arts students who fine-tune their degrees to the social sciences are capable of improving the day-to-day lives and the future of the state's residents.
Colleges of Liberal Arts in Rhode Island Offering Bachelor's and Master's Degrees
Providence College Providence, RI
Operating within a Catholic and Dominican tradition, Providence College folds faith and ethical reasoning into the university experience. Nearly half of the undergraduate student body is enrolled in the School of Arts & Sciences. Providence College consistently makes the list as a top university in the northern region. Students are able to experience living and learning in other countries as the university has more than 300 study abroad programs. With a focus on community involvement, PC even offers a bachelor's degree in Public and Community Service Studies, the first university in the country to do so. The liberal arts curriculum at Providence College allows for an interdisciplinary depth of knowledge.
Roger Williams University Bristol, RI
The programs at Roger Williams University are geared toward equipping students to solve real-world problems through hands-on learning. The comprehensive university is inspired by Roger Williams himself, who was a Puritan minister and theologian devoted to social justice and freedom of conscience who had a part in founding the Rhode Island community. The university is dedicated to ensuring that every student makes an impact on society while being taught critical thinking, inclusiveness, and innovation.
Salve Regina University Newport, RI
Founded in 1934 by the Sisters of Mercy, Salve Regina University has a mission of mercy that it teaches students to carry through to their personal and professional lives. Students are encouraged to explore their talents and follow their curiosity through academic offerings, service initiatives, and student organizations. The undergraduate programs include collaborative mentorship and research opportunities, and the university also offers leadership development programs and internship experiences. Nearly all of the college's undergraduate students benefit from scholarships or financial aid.