<!- mfunc search_box_body ->

<!- /mfunc search_box_body ->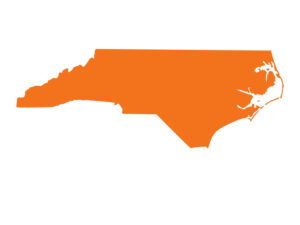 North Carolina is brimming with opportunities for college students and young professionals. The state's university system is respected nationwide. Not only is it home to well-known liberal arts colleges, the likes of Duke and North Carolina Wesleyan University, but there lots of directions to take your career once you graduate. North Carolina's countless employers attract a well-educated workforce from all over, and the benefits of a liberal arts education don't go unnoticed.
Students looking to begin or further their education with dynamic bachelor's or master's degrees available from liberal arts colleges in North Carolina are choosing to take advantage of the increasing number of opportunities that the state has to offer. 
Thanks to the broad interdisciplinary curriculum found in the state's liberal arts colleges, along with immersive experiences, and personalized learning, liberal studies graduates experience great job placement rates.
<!- mfunc feat_school ->
Featured Programs:
Sponsored School(s)
<!- /mfunc feat_school ->
Graduates with bachelor's or master's degrees in liberal arts are perfectly primed to thrive in a changing economy, and North Carolina is certainly transforming. High-tech sectors are growing, the population is increasing, and the needs of the community are changing.
When you think of tech jobs Silicon Valley might come to mind, but Raleigh is one of the best cities for technology in the United States, and the sector is enjoying rapid growth. Research Triangle Park is a prominent research and development area that sits between Raleigh, Durham, and Chapel Hill. Over the past 60 years, the park has grown to be the largest R&D region in the country. More than 300 companies occupy the park, including Cisco Systems and GlaxoSmithKline, and tens of thousands of employees work there. The three major universities that anchor the park include one of North Carolina's most prominent liberal arts colleges, Duke University, along with North Carolina State University and University of North Carolina at Chapel Hill.
In addition to the booming financial and technology industries, tourism also boosts North Carolina's economy. North Carolina's scenic beauty, from the Blue Ridge Mountains to the white sandy beaches on the coast, attracts people from all over the country. The rich United States history and culture of warm hospitality also draw visitors to the state.
North Carolina also boasts a wealth of natural resources that bolster its economy. These include hydroelectric power as well as fertile soil. The state leads the region in both industry and agriculture. Liberal arts degree programs allow students to apply their innovative and creative ways of thinking to a wide range of sectors, from technology to tourism.
A strong liberal arts foundation is the perfect starting point to build upon for a meaningful career, in whatever direction that path takes.
An in-person or online degree from a liberal arts college in North Carolina will give a graduate the freedom and flexibility to be well positioned to succeed across diverse fields.
Become Part of the Film, Media and Performing Arts Scene in North Carolina with a Degree in Liberal Studies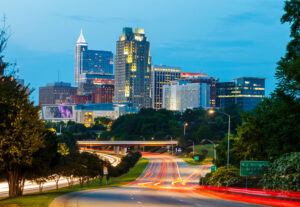 North Carolina has a flourishing arts community and is the perfect place for a liberal studies graduate with a concentration in the arts to hone their skills and develop their career.
The state is well known for its instrumental role in the evolution of American music, from old-time music to bluegrass to country to blues all the way to modern rock. The Avett Brothers and Ben Folds Five are active popular bands who hail from North Carolina. Some of the most noteworthy and influential jazz musicians were from North Carolina, including John Coltrane, Thelonious Monk, and Nina Simone.
Performing artists are center stage in North Carolina. Its performing arts venues include Durham Performing Arts Center, Duke Energy Center for the Performing Arts, and the Blumenthal Performing Arts Center, which present concerts and Broadway musicals, among others. The state also has five opera companies, Opera Carolina, NC Opera, Greensboro Opera, Piedmont Opera, and Asheville Lyric Opera, in addition to academic institutions staging operas. It has the NC Symphony, Charlotte Symphony, and Winston-Salem Symphony as well.
The North Carolina Film Office offers incentives to film in the state and there are countless local media production studios, so a liberal arts graduate with a degree concentration in film and media can find chances to work on projects big and small.
North Carolina's culture is in huge support of the arts. In fact, the state had the first state-supported symphony and art museum in the country.
It's in a hospitable and creative atmosphere like this that liberal arts students who specialize in the arts bloom and grow.
Join the Scientific Community in North Carolina with a Degree in the Liberal Arts and Sciences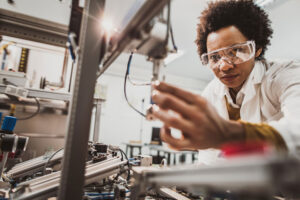 The scientific community in North Carolina is doing more than just contributing to the field of science and technology with advances and inventions, it's leading the way. A liberal arts and sciences degree with the right kind of emphasis could be just what you need to start contributing to the important STEM work being done in the state.
Along with high-tech companies, Research Triangle Park also houses the National Institutes of Health and National Institute of Environmental Health Sciences. Breakthrough research in health and a state-of-the-art healthcare system sets the state apart. Liberal arts students who fine-tune their degrees to focus on sciences are in the right place to make an impact.
Of the many innovations produced in Research Triangle Park, Universal Product Code (UPC), digital cellular technology, 3D ultrasounds, and LED lighting are just a few. During and after getting a bachelor's or master's liberal arts degree, students can collaborate and contribute to this brilliant community.
How a Liberal Arts Education in North Carolina Can Prepare You to Work in the Social Sciences
With a population that has been steadily increasing for decades, North Carolina's changing population needs adaptable and open-minded social sciences graduates who are equipped to handle change. It's well within their skillset to spot new and unique ways to solve the social problems that arise within a growing community. North Carolina's liberal arts colleges teach students who focus on social sciences how to think critically and problem-solve creatively when it comes to social issues.
While the urban areas of the state are booming, which involves its own set of challenges, the rural areas have been suffering and shrinking. Rural regions are experiencing job loss, population loss, and increased poverty as the manufacturing industry has declined.
North Carolina's growing and diverse population needs people educated in the social sciences, from political leaders to social workers. Liberal arts programs imbue students with the sense of social responsibility and community engagement necessary to make positive impacts in society.
Colleges of Liberal Arts in North Carolina Offering Bachelor's and Master's Degrees
Barton College Wilson, NC
Barton College is a Christian (Disciples of Christ) liberal arts college founded in 1902. With a student-to-faculty ratio of 13:1 and an average class size of 17, the small college is able to provide a personalized experience dedicated to academic excellence and leadership development. Barton also offers its students internships, research opportunities, international travel and study, and chances for community engagement.
Belmont Abbey College Belmont, NC
Belmont Abbey college is a small institution that has both on-campus and online degrees in liberal arts and sciences. The Catholic college aims to foster a spiritual life among its students and community through the Benedictine traditions of prayer and hospitality. Belmont Abbey's focus is on creating successful professionals and responsible citizens who develop in mind, body, and spirit throughout their time there.
Duke University Durham, NC
Founded in 1924, Duke University has been educating men and women in the arts and sciences for nearly a century. The college is historically affiliated with the United Methodist Church. Duke is committed to inquiry and runs institutes and centers that encourage research, public engagement, and a problem-focused education. The educational experience at Duke has a mission to elevate the spirit as well as engage the mind.
Elon University focuses on learning by experience and engagement. Both teaching and mentoring are a top priority for faculty, with a low student-to-professor ratio. In fact, it has been named the best college for undergraduate teaching by U.S. News & World Report. The college fosters a student-centered community with an emphasis on relationships with other students, faculty, and alumni.
Greensboro College Greensboro, NC
Greensboro College provides an educational experience that is deeply rooted in the liberal arts. With 99 percent of students being offered financial aid, the college is committed to making education accessible and affordable for everyone. Students receive personalized learning and support with a faculty member for every 9 students at the small campus. Greensboro College is inspired by the values of the United Methodist Church but welcomes people from all backgrounds.
Livingstone College Salisbury, NC
Livingstone College was founded in 1879 for the purpose of training ministers, and now offers degree programs in science and math, business, education, social work, and psychology, as well as liberal arts. The college's Division of Liberal Arts and Humanities has a mission to empower it's graduates to become global leaders and critical thinkers who are committed to social justice and humanistic values.
North Carolina Wesleyan College Rocky Mount, NC
North Carolina Wesleyan College is a United Methodist Church-affiliated liberal arts college founded nearly 70 years ago with a commitment to excellence. The teaching style at the college is focused on instilling core values in its students that will allow them to continue to learn for the rest of their lives. Intelligence is taught through building skills such as critical thinking, communication, and collaboration. NCWC offers the traditional campus experience as well as programs for adult learners and online degrees.
Salem College Winston-Salem, NC
Salem College is a historic liberal arts college for women founded a quarter of a century ago. Among its student body, the college is the most racially and ethnically diverse of any other local university. Salem College is ranked highly among United States colleges for social mobility as well as one of the "best buys" for liberal arts schools in the region. With an average class size of only 11 students and a student population of about 500 women, the college offers a personalized educational experience and proudly promotes independence for women.
Wake Forest University Winston-Salem, NC
Wake Forest University is located in Winston-Salem, where liberal arts students can be engaged in the community that's dubbed the City of Arts and Innovation. With the motto Pro Humanitate, which translates to For Humanity, Wake Forest is dedicated to bettering the lives of others through community involvement and personal improvement. The diverse student body is able to choose from more than 45 degree programs within six schools and colleges.
William Peace University Raleigh, NC
William Peace University is an immersive college that pays special attention to preparing its students for future careers within a strong liberal arts tradition. Along with internships, the college's Career Design Center assists students in planning their career paths. The adaptive, hand-on classes are designed to teach students the habits of constant learning and focus on building ethical and meaningful skills. WPU makes education more accessible by offering hybrid and online degrees in addition to in-person learning, with nearly all students awarded financial aid.