<!- mfunc search_box_body ->

<!- /mfunc search_box_body ->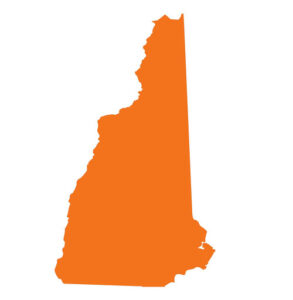 New Hampshire is quintessential New England. But it's not just a state of foliage; it's also a state of firsts. The first provincial congress to ratify the first independent constitution in the Americas. The first free public library. The first women's strike. The nation's first forest-conservation advocacy group. Home of the first American in space. The place where the first home video game was developed. The first municipal recycling center. The list goes on.
Graduates of liberal arts colleges in New Hampshire are instilled with the same innovative spirit that's characteristic of the state itself. With a bachelor's or master's degree in liberal arts, they're prepared to go on to add to that list of firsts.
New Hampshire's economy has transformed from a reliance on the industrial sector to be heavily diversified. The state's workforce in financial and professional services is growing. Regardless of a major, a liberal arts education provides students with the wide range of foundational knowledge and communication and critical thinking skills necessary to succeed in any sector, and employers see that.
<!- mfunc feat_school ->
Featured Programs:
Sponsored School(s)
<!- /mfunc feat_school ->
Whether someone is a working professional looking for a step up, a busy adult ready to earn a degree, or a student new to college and eager to experience life on a New England campus, New Hampshire's liberal arts colleges have it all.
Become Part of the Film, Media and Performing Arts Scene in New Hampshire with a Degree in Liberal Studies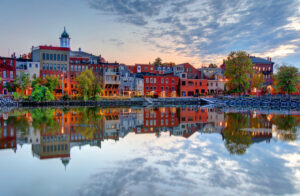 Filmmakers in search of mountains, farms, coasts, or cities find what they're looking for in New Hampshire. The state's Film Bureau offers filmmakers assistance and keeps a list of industry professionals, many of whom were educated at New Hampshire's liberal arts colleges.
In the performing arts, the Peterborough Players have been producing professional theater for nearly a century, performing every summer since 1933. The Barnstormers Theatre, founded a couple of years earlier, is also one of the longest-running professional summer theaters in the country. New Hampshire has a long history of well-received performing artists.
The first step to taking the stage (or the screen) is earning a liberal arts degree at one of the state's distinguished colleges.
Join the Scientific Community in New Hampshire with a Degree in the Liberal Arts and Sciences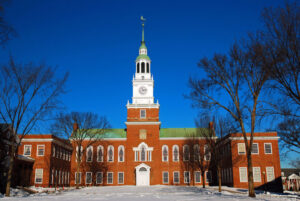 From an experimental forest to an Ivy League research institute, the scientists in New Hampshire, including its liberal arts college students, are making waves.
The Hubbard Brook Experimental Forest, a northern hardwood forest in the White Mountain National Forest, is making possible comprehensive ecosystem studies. The research efforts are collaborative and multidisciplinary, ideal for a liberal arts student trained in engaged teamwork and taught the skills needed to broaden the scope of study beyond just one speciality. The Hubbard Brook Ecosystem Study has a long-term eye on air, water, soils, plants, and animals.
College students aren't just keeping their experiments on the ground. A project by University of New Hampshire Manchester students and their faculty advisor was being sent to the International Space Station as part of NASA's Student Payload Opportunity with Citizen Science (SPOCS) program. The study examines how bacteria mutate in space and how the production of antibiotic compounds are affected.
The Call to Lead, a campaign for Dartmouth College, empowers students to go on to improve the lives of people everywhere. The campaign is intended to create the ambitious leaders of tomorrow who are able to identify problems, develop solutions, and act on that. The goals of the people, projects, and facilities in the program are to advance Dartmouth's educational model, look for discoveries that benefit humankind, and prepare students to lead.
New Hampshire has high expectations for the students in its liberal arts colleges with scientific ambitions, but they're up for it. Every student who walks through the gates of New Hampshire's colleges of liberal arts has the opportunity to join this energetic community.
How a Liberal Arts Education in New Hampshire Can Prepare You to Work in the Social Sciences
With a low crime rate and one of the highest household incomes, you may think there isn't much work to be done in New Hampshire. On the contrary, the work of social science professionals is cut out for them in maintaining this high quality of life.
Public servants and policymakers are needed to ensure that the needs of New Hampshirites are met. Environmentalists are tasked with preserving the state's natural beauty. Economists are needed to keep an eye on the state's performance as an industry leader.
Liberal arts graduates' strong sense of social responsibility and ability to engage personally with a community put them in the perfect place to keep New Hampshire happy.
Colleges of Liberal Arts in New Hampshire Offering Bachelor's and Master's Degrees
Dartmouth College Hanover, NH
Dartmouth College is an Ivy League research university that bridges arts and sciences. Founded in 1769, Dartmouth is one of the nine colonial colleges chartered before the American Revolution. With an incredibly low student-to-faculty ratio of 7:1, it offers a personalized learning experience.
Magdalen College Warner, NH
Magdalen College of the Liberal Arts is a Catholic institution that provides a liberal arts education that integrates faith and communion with inquisitive learning. Magdalen College strives to prepare students for greatness.
New England College Henniker, NH
Originally founded as a college to serve veterans after World War II in 1946, New England College now has a student population of thousands. The college offers undergraduate, graduate, and online liberal arts degree programs.
Rivier University Nashua, NH
As a Catholic college, Rivier University is dedicated to educating mind, body, and spirit. Rivier welcomes both traditional and non-traditional students from all backgrounds.
Southern New Hampshire University Manchester, NH
Founded in 1932, Southern New Hampshire University is now one of the fastest growing colleges in the nation with over 135,000 online students in addition to the thousands on campus.  SNHU offers undergraduate and graduate degrees in the liberal arts, social sciences, and STEM, among others.
Thomas More College of Liberal Arts Merrimack, NH
The Thomas More College of Liberal Arts is solely dedicated to the liberal arts. It provides a Catholic learning experience to students of any faith, with a mission to seek and share wisdom together. Its emphasis is on classical education.