<!- mfunc search_box_body ->

<!- /mfunc search_box_body ->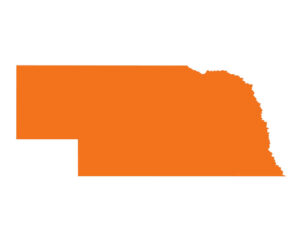 Nebraska is all-too-often overlooked as the state of unique possibilities that it is, abounding with opportunities in education, careers, and some of the most beautiful country on earth.
The wide range of skills and knowledge acquired by a liberal arts education equips graduates to be flexible and adaptable with their career choices as they enter the workforce. Nebraska's liberal arts colleges offer degrees in the arts and humanities, social sciences, and sciences, allowing students to choose from a wide array of directions to go.
<!- mfunc feat_school ->
Featured Programs:
Sponsored School(s)
<!- /mfunc feat_school ->
Nebraska's distinctive landscape has inspired the people who live here to make immense contributions to arts, culture, and the sciences. This is all very apparent in the work of artists inspired by the natural beauty, the careful focus on agricultural sciences on fertile land, the ability that Nebraskans have to truly pay attention to the society around them.
The peaceful environment of the state is an ideal locale for a liberal arts student seeking a reprieve from the hectic pace of big city life. The bucolic charm and pioneering spirit come together in creative ways here. Nebraska is remarkably supportive of the arts and sciences. Students earning their degrees from a Nebraska liberal arts college aren't stuck indoors, but have special opportunities to develop both their minds, bodies, and heritage while connecting with nature, culture and history.
Quaint and bustling, scenic and urban, past and present, Nebraska has a full range of qualities, making it the perfect home for any student earning their liberal arts degree.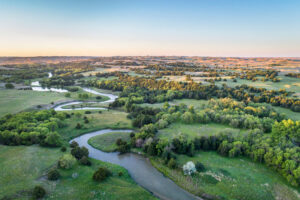 A bachelor's or master's degree in liberal art from a Nebraska college, either in person or online, leaves graduates as well-rounded as the state itself. The degrees are built on broad foundations of knowledge, and then fine-tuned with a curriculum in your chosen concentration, whether that's in the sciences, the arts, the humanities, or the social sciences.
The Cornhusker State is home to more than just agriculture and ranching, although it certainly provides that. Industries that offer employment opportunities in the state range from renewable energy with the state's powerful wind resources to financial services. Companies headquartered in Nebraska include insurance giants like Mutual of Omaha, manufacturing and engineering businesses such as Kiewit, transportation legend Union Pacific Railroad, as well as upmarket real-estate firm Berkshire Hathaway, all of those Fortune 500 companies. The state's employers have come to rely on the graduates of Nebraska's liberal arts colleges, and the broad and balanced perspectives they bring.
Become Part of the Film, Media and Performing Arts Scene in Nebraska with a Degree in Liberal Studies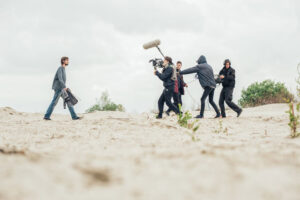 Nebraska fosters a vibrant art scene and is home to many museums, exhibits, galleries, and performing arts centers. The state has an impressive support system for the arts, with many organizations promoting creative expression.
Nebraskans for the Arts is an arts advocacy group representing creative organizations and individuals, the Nebraska Cultural endowment exists to preserve Nebraska's arts and culture with the only public-private cultural trust in the nation, and the Nebraska Arts Council cultivates the arts by providing grants and services to Nebraskan artists.
As testament to Nebraska's creative tradition, its natural wonders are paired with man-made wonders as well, such as Carhenge, the famous art installation that stacks nearly 40 vintage cars to replicate Stonehenge.
As with the arts, film and media are heavily promoted. The Nebraska Film Association advocates for a positive film and media production environment in the state. The Nebraska Film Office supports endeavors of the film industry by providing resources and incentives for filmmakers, including grants administered by the Nebraska Department of Economic Development. It's all part of encouraging production companies to shoot on-location here, which opens up some amazing opportunities for high-budget filmmaking. Projects may also benefit from the Local Option Municipal Economic Development Act, which authorizes tax dollars for economic development purposes including the production of films or television programs.
Full-service film and digital media production companies operate in the state as well, particularly in the population centers such as Omaha. These draws for large-scale filmmaking along with independent creative studios give individuals with bachelor's or master's degrees from Nebraska's liberal arts colleges a wide range of opportunities to put their degrees to work after graduation.
Liberal arts students focusing on the film, media and the arts at liberal arts colleges in Nebraska graduate in a welcoming and supportive environment to begin or continue their creative careers.
Join the Scientific Community in Nebraska with a Degree in the Liberal Arts and Sciences
A bachelor's or master's degree in liberal arts with a focus on science can lead to exciting opportunities in Nebraska's advancing scientific community.
Pioneering engineers and inventors have hailed from Nebraska, such as Jay Wright Forrester, a computer engineer and systems scientist credited with being one of the inventors of magnetic core memory in a huge step forward in digital development, and Harold Edgerton, a scientist and researcher who contributed to modern laboratory technology.
In healthcare sciences, the University of Nebraska Medical Center has created a Scientific Advancement Committee to create, prioritize and seek funding for interdisciplinary pilot research proposals focused on patient engagement in chronic care management. The committee also distributes Funding Opportunities Announcements to the research community. Beyond medical centers providing care for Nebraskans, the state is dedicated to advancement and facilitates collaboration and scientific review.
With its immense agricultural industry, scientists who have passed through the halls of the state's liberal arts colleges have been making breakthrough discoveries in plant pathology for decades.
For those with bachelor's and master's degrees from these universities, employment at Biotech companies is also big in Nebraska, with many organizations focusing on agriculture such as Green Plains and Syngenta.
Earning a liberal arts degree with a concentration in science is the first step to contributing to this active scientific community.
How a Liberal Arts Education in Nebraska Can Prepare You to Work in the Social Sciences
The social sciences span a broad spectrum, and the skills necessary to succeed in a social science field also need to be broad. Whether you plan to enter politics, history, or environmental conservation, you'll need the ability to communicate effectively, recognize and then creatively solve problems, and be persuasive. These are all skills taught in the degree programs you'll find at the liberal arts colleges here in Nebraska.
The educational foundation that a liberal arts degree with a concentration in social sciences including history, psychology, and sociology positions you for a successful career in public service or social research. Your focus will be on studying the ways that humans interact and how changes could lead to a more successful society.
The organization Humanities Nebraska was created to help the social scientists of Nebraska cultivate a more informed, thoughtful, and just society through empathy, knowledge and understanding. Their mission is to explore what makes us human. The organization includes grants, workshops, and lectures. This group supports social sciences that have humanistic content and employ humanistic methods, such as history, environmental work, and sociology.
Students with a focus on history have the opportunity to earn their liberal arts degrees in a state rich in American heritage, where transformations in the country's past have taken place, and even where one president, Gerald Ford, was born.
An undergraduate or graduate degree from a liberal arts college in Nebraska could begin it all as the basis for your career in the social sciences.
Colleges of Liberal Arts in Nebraska Offering Bachelor's and Master's Degrees
Creighton University Omaha, NE
Creighton College of Arts and Sciences takes a Jesuit-based approach to education with a tradition rooted in Ignatian values. The college, founded in 1878, was named one of 2022's best colleges by US News and World Report, and 97 percent of graduates are employed or enrolled in a graduate program within 6 months of graduating.
Doane University Crete, NE
Nearly 150 years old, Doane University has a long history of being a world-class liberal arts and sciences institute known for producing strong leaders with their liberal arts programs that position students to meet their career goals. Doane's Zenon C.R. Hansen Leadership Program instills self-confidence in students to prepare them for upward mobility.
Union College Lincoln, NE
Union College is a Seventh-day Adventist university in Lincoln founded in 1891. While they welcome students from all faith traditions, the college places a focus on encouraging students to develop their spirituality as they gain their education and prepare for a successful career. Union College encourages every student to achieve their full potential.