<!- mfunc search_box_body ->

<!- /mfunc search_box_body ->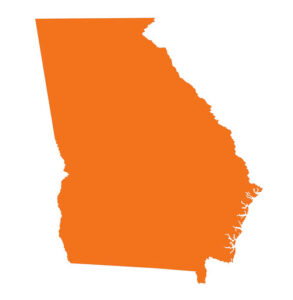 Choosing the right liberal arts college – and the right program – is the first of many big decisions you'll make as a liberal arts student. The college selection process is both exciting and nerve-wracking. You're looking into a future full of possibilities, but in the moment, it can feel like a make-or-break decision and you don't want to get it wrong.
Georgia is known as the Silicon Valley of the South, so you can be sure there isn't a high school student anywhere in the state that isn't hearing about the STEM fields and the need for a highly technical education right now. It's hard to argue that tech dominates in Georgia just like everywhere else, with heavy hitters such as Atlanta Metro's Mail Chimp and Cricket Wireless hiring a lot of college grads in those fields.
Successful liberal studies graduates in Atlanta and throughout Georgia know that while technology is driving the future, people are still at the helm. And many of those people bring that unique blend of heart, mind and soul that can only come from a liberal arts education. The metro areas of Atlanta, Augusta,  and Savannah, offer the liberal arts grad no shortage of exactly those kinds of opportunities.
Georgia students will find a bachelor's or master's in liberal arts offers a wide range ofoptions in media, film and graphic design, as well as business, human resources, public relations, and public policy. And, with the right concentration, even in the STEM roles everybody's talking about.
Become Part of the Film, Media and Performing Arts Scene in Georgia with a Degree in Liberal Studies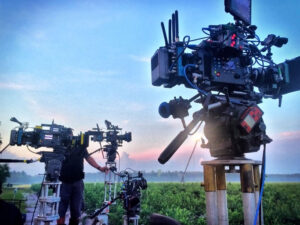 When Georgia born Spike Lee arrived in 1957, he didn't know at that time he would eventually grow up to become "one of the most decorated American filmmakers of his generation." Georgia is home to an impressive collection of notable performers including Julia Roberts, Hulk Hogan, Ray Charles, and Elle Fanning.
The Georgia Film Office has been involved in luring film and television production to the state for forty years and they aren't stopping anytime soon. The student graduating with a liberal arts degree in film or theater will benefit from the database that Georgia's film industry maintains. They have access to thousands of set location properties, scouts, and certified projects that can benefit from state tax incentives. Georgia is now considered one of the premiere destinations for the industry.
While film is a major player in Georgia's economy, its live theater is prospering as well. With a significant increase in population over the last decade, Georgia's entertainment industry has grown alongside it. There are 167 theaters in Georgia that offer a variety of work including backstage, production, marketing, and acting.
Not all creatives seek the limelight. In fact, many artistic types enjoy solitude. There are careers available for the humble introvert with a liberal arts degree. Georgia employers, such as Georgia Pacific, Koch Foods, and Amway all have communication directors, graphic designers, and website content creators on the payroll. In fact, most large companies will offer both in-house and freelance work for those in media arts who prefer being secluded behind a computer screen.
Join the Scientific Community in Georgia with a Degree in the Liberal Arts and Sciences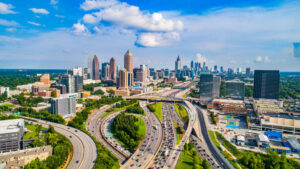 If you were the kid who disassembled their cell phone at age ten – just to look at the inner workings – that may be an indication there's a science gene lurking in your pool. The curiosity of children drifts into adulthood for those who love to know how the world works – and aren't afraid to take it apart. This kind of drive can carry you through a liberal arts and sciences program that will prepare you for the next phase in your life. And here in Georgia, that can mean making a meaningful contribution in everything from leading edge research in nanotechnology and biotech as part of the agricultural science industry, or to petrochemical science and the green solution to those fossil fuels, like biofuels, wind and solar.
But in a place where big ag is a big deal for the economy, food and water science continue to be two of the biggest hot button issues for Georgia.
It's a painful reality that in a state known for food production, some 10% of the population faces some kind of food insecurity. Liberal arts and sciences students can't help but bring a humanistic and solutions-oriented perspective to everything they do.
You can be sure that graduates of Georgia's liberal arts colleges are involved in the work taking place to promote sustainable agriculture, at both a policy and boots-on-the-ground level. Let's face it, not many are excited about fake meat, but integrated farming practices and the work being done in soil science offer hope of better and more ecologically friendly ways to keep food production costs in check without damaging environmental effects.
Organic and integrated farming that involve energy-efficient farm practices, methane digestion, wastewater management, irrigation strategies, and reduced energy consumption are becoming hugely popular, giving us a clear indicator of where farming practices are going, and Georgia is leading the way.
How a Liberal Arts Education in Georgia Can Prepare You to Work in the Social Sciences
Active listening, negotiation, critical thinking, and communication skills all come with earning a degree in liberal studies, and it's a good thing, since those skills are vital to all aspects of the social sciences too.
Georgia's diverse community needs economists, policymakers, social program directors capable of examining social situations from different points of view and identifying a wide variety of needs for all of them, whether it's the rural poor of Macon County or the marginalized corner of Atlanta.
The social sciences are a world where students are involved in every aspect of the societal experience in Georgia. Whether it's a social justice cause, policy work or in some aspect of the growing elder care industry, social science majors are dedicated to problem-solving on a societal level.
Colleges of Liberal Arts in Georgia Offering Bachelor's and Master's Degrees
Brenau University Gainesville, GA
Brenau University offers undergraduate and graduate degrees or non-degree programs for the liberal arts student in Georgia. The school prides itself in focusing first on the personal success of the student, and then on academic achievement.
Emory University Atlanta, GA
1836 was the inaugural year for Emory University. Since then, it has become a householdname in Georgia. It's well known for quantitative sciences and engineering. It  partners with Georgia Tech to conduct cutting-edge research related to cancer, Alzheimer's and Parkinson's disease.
Mercer University Macon, GA
Mercer is one of the oldest colleges in the US. Founded 185 years ago in the Baptist tradition as an all-male  prep school, Mercer serves over 9000 students yearly. Among  its notable alumni is Ellis Arnall, past governor of Georgia, and Pulitzer prize winner Buford Boone.
Oglethorpe University Atlanta, GA
Oglethorpe University offers a close-knit campus atmosphere surrounded by the lights of the big city, and is one of the oldest colleges in the country. During the early part of thecentury, the educational goals were focused on their motto: "Learn to make a life, make a living and make a difference." Their interdisciplinary liberal arts programs include 60different areas of study, both at the undergraduate and graduate levels.
Reinhardt University Waleska, GA
Reinhardt University takes a personalized approach to education by offering small class sizes with "talented professors." Their liberal arts education, in conjunction with professional preparation, classroom experiences, and research projects, preparestudents to meet the rigorous needs of today's workers. They offer 43 degree programs and 60 concentrations in areas such as sacred music, creative writing and studio art.They also offer multiple pre-field areas of study.
Shorter University Rome, GA
Luther Rice Gwaltney opened Shorter University in 1873 as a Cherokee Baptist Female College. His goal at the time was to create a school for young ladies to teach them the refinements of life and education. Today, Shorter's doors are open to all, and have a variety of liberal studies programs. The school was named after its primary benefactors, Alfred and Mary Shorter.
Thomas University Thomasville, GA
Thomas University is located in the rich historical town of Thomasville, Georgia. The school offers education in the liberal arts with the desire to meet the needs of both traditional students, as well as professionals returning to college. They offer flexible courses designed to meet the needs of all students including military and international students as well.
Toccoa Falls College Toccoa Falls, GA
Toccoa Falls is a private Christian college on a mission to "cultivate a uniquely Christian learning community" that prepares the student academically and spiritually in order to fulfill a holistic educational experience. They believe that a well-rounded education only happens when the person nurtures their soul as well as their mind. Located on over 1000 acres at the foothills of the Blue Ridge Mountains, the school is situated in an area that offers a vibrant outdoor life with miles of trails, woods, swimming, and hiking. Among their many degree programs are concentrations in Christian thought, theology, counseling, and Christian leadership.
Truett McConnell University Cleveland, GA
Truett College operates on the four pillars of faith: "love the Lord, love His Word, love the Church, and love the lost." They offer an impressive lineup of programs including bachelor of arts in history, science, nursing, music and more. They provide online classes as well as traditional campus studies. They offer continuing education and masters in bible counseling, theology, Master of Divinity, Master of science in biology among many others.